Journalists in a Changing Time
March 19, 2018 | By Tim Pratt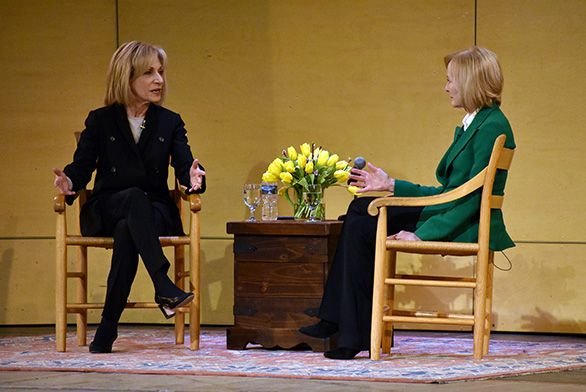 Andrea Mitchell and Judy Woodruff for decades have taken to the airwaves to report the news of the world.
The longtime friends brought their insights on journalism, current events, technology and other topics to St. John's College in Annapolis on March 18.
Nearly 500 people gathered in Francis Scott Key Auditorium to hear the women speak as part of the Great Conversations series, presented by the Friends of St. John's College and EveryoneOn, a national nonprofit working to provide internet access to all. Proceeds from the event benefit the St. John's scholarship fund and EveryoneOn.
Mitchell is chief foreign affairs correspondent for NBC News and host of MSNBC's Andrea Mitchell Reports; Woodruff is anchor and managing editor of PBS NewsHour.
The pair met decades ago as women trying to break into the world of TV news. As they spent more time on the air and covered more high-profile events—Mitchell reported on the Jonestown Massacre and Woodruff covered the attempted assassination of then-President Ronald Reagan—their careers and friendship grew.
Despite their success, it was a difficult time for women to break into a male-dominated TV news industry, they said. These days, things have improved, they said.
"All of our beats now have very prominent women," Woodruff said.
Yet, there is still room for improvement, they said, and not enough women hold management positions in the journalism industry as a whole.
The women touched on that other topics throughout the afternoon, including the ways technology and 24-hour news have changed reporting, the challenges of balancing busy work and family lives, and the effect of social media on the industry and politics.
The effect of social media on the 2016 election "hit us like a Mack truck," Woodruff said.
"We weren't prepared to understand (the effects of) social media," Mitchell said.
Mitchell and Woodruff also touched on their roles as fact-checkers in today's politically charged environment, with frequent claims of liberal bias and "fake news."
"It puts us in a place where we're viewed more adversarially," Mitchell said.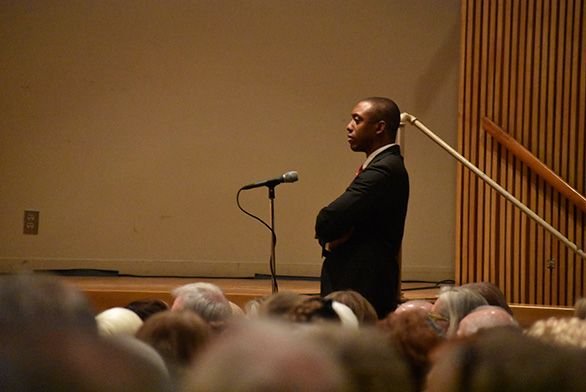 Members of the audience asked a number of questions, including queries about President Donald Trump, the media's responsibility to report on the opioid addiction crisis, how they determine what stories to cover and the response to mass shootings. At the end of the two-hour event, the audience gave the journalists a standing ovation.
EveryoneOn CEO Chike Aguh said he was appreciative of Woodruff and Mitchell for sharing their insights, and for the Great Conversations partnership with St. John's, which is helping his organization provide internet access, digital devices and training to low-income residents throughout the country.
"Technology is changing everything, including news and information," Aguh said. "We believe everyone needs to have access to this technology, and we're grateful to St. John's for this great partnership that allows us to do that."
This is the second consecutive year the Great Conversations series has brought prominent figures to the St. John's campus in Annapolis. In 2017, journalist Tom Brokaw and Admiral Mike Mullen discussed world events and a variety of other topics.