Macarena Olsen (A13) Brings Plato to Brand Design at Poesis Creative
June 28, 2021 | By Les Poling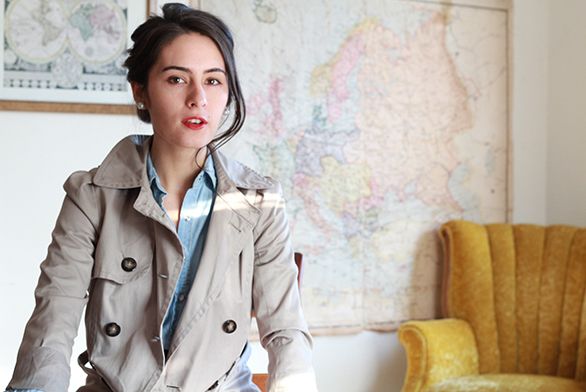 The word "poesis"—from the Ancient Greek "ποίησις"—is defined in philosophy as "the activity in which a person brings something into being that did not exist before." Given the definition, one could easily make the mistake of describing "poesis" as a simple synonym for "creation" or "making." But according to Johnnie alum Macarena Olsen (A13), creative director and founding partner at Poesis Creative, that would be a gross oversimplification of a term that she says "means 'poetry' in the wide sense of 'creating.'"
"I first encountered this word at St. John's when reading Plato's Symposium," Olsen recalls. "[In several passages,] Diotima describes mortal beings' quest for immortality in relation to poesis—in all begetting and bringing forth upon the beautiful, there is a kind of poesis, a kind of making or creating, that moves us beyond the temporal cycle of birth and decay and toward the immortal."
In other words, poesis refers to the kind of "bringing into being" that strikes at something so radically true it captures a glimpse of eternity. With Poesis Creative, an Annapolis-based, full-service graphic design and branding studio, Olsen strives for the same lofty ideals, whether designing the website of a co-working company or reviewing photography assets for a Vermouth distillery.
"We try to stand in opposition to marketing schemes that act as agents of jargon-laden homogenization" she explains. "We say: 'au contrarie, vive la différence!'"
More than 10 years ago, the same attitude helped lead Olsen to St. John's College. At high school in South Florida, where she moved after mostly growing up in South America, her friends spent most of their time on the beach or planning prom parties—undeniably fun, but not what Olsen wanted from life. Even as a high schooler, she says, "I was a closeted philosophy lover."
"I remember the first time I picked up a copy of Plato's Republic from the lonely "Ancients" aisle of the high school library; I must have been in the 10th or 11th grade," she says. "Reading through the dense text that seemed both inscrutable and captivating to me, I knew I had found something I needed to pursue."
That pursuit led Olsen first to conduct a wide search for liberal arts colleges, then to apply to St. John's, and finally to pack her bags and move to the mid-Atlantic. When she arrived on campus, she knew she had discovered an intellectual home.
"Those first weeks of freshman year, I was thrilled to have found exactly the kind of community of learning I had been searching for, with long, lazy evenings of conversation that lasted until absurd hours of the morning, delightfully filled with argument and song."
The search for meaning, an insatiable sense of inquiry, and the pursuit of beauty are experiences Olsen has found both at St. John's and in her work at Poesis. As one half of the company's leadership team, Olsen helps shape not only Poesis's creative direction but the firm's entire ethos, which she loosely defines as developing "comprehensive graphic identities" for clients that have an authentic message and purpose; brands and companies that seek to add tangible value to people's lives. Recent clients include The Wine Collective, Baltimore's first urban winery and pintxos bar; American Philanthropic, a Pennsylvania-based consulting company for philanthropies; and The Commons, a coworking office space in Annapolis. With every client, Olsen says, Poesis aims to authentically represent the company's mission.
"In his essay 'Politics and the English Language,' George Orwell explored the ways in which the debasement of our language leads to the debasement of our society; when language is unnecessarily vague or meaningless, it is because it is intended to hide the truth rather than express it," she explains. "The work I have chosen is meaningful to me because I try my best to tell the truth through it … through graphic and narrative tools, we tell [a company's] story in a distinct and tangible way."
In practice, that means embarking on an intellectual journey with clients and coworkers that culminates in the formation of a distinct graphic identity. Olsen begins by meeting with a given client in order to understand their brand—their services, the value they bring to customers, the problems they face, the defining or unique features of their company culture—which requires research, data analysis, careful listening, questioning, and more. Using that information, she puts together and starts to execute a strategic creative plan, assembling the necessary team of photographers, filmmakers, illustrators, developers, and whoever else is needed to get the job done. At that point, all that's left is the finished product, which can include everything from a website redesign, social media campaigns, and new packaging to a complete overhaul of a company's art direction.
Elements of the job will doubtless sound familiar to Johnnies: close listening, collaborative creativity, dialogue. The connections are also apparent to Olsen. On a practical level, whether "scourging flea markets for props to be used at a photoshoot [or] sketching the 30th version of a logo under the lamp of my drafting table until my eyes hurt, most of the time you'll find me much as I was as a student at St. John's: wondering about the means and ends of human action," she says.
Likewise, in a more holistic way, St. John's helped instill in her a particular approach to the world that she uses in her work: "the habit of inquiring into the most fundamental objects of human life, the most familiar aspects of human action, and looking at them as if for the first time, in all their strangeness."
"Plato has a word for it: metastrophe or periagoge, a turning around, a conversion, reflection," says Olsen. "This kind of radical reflecting, or radical questioning, has empowered me to think effectively when I begin the branding process for a new client, or when I'm feeling creatively stuck in the middle of planning a marketing campaign, or when I need to understand consumer perception of a client's product, and in so many other occasions."
Importantly, she adds, that frame of mind extends well beyond the workplace—just like at St. John's, where it extended well beyond the classroom.
"It has made my whole life richer and more purposeful," Olsen declares, "imbuing it with a sense of wonder and a love of learning for its own sake."