Meet the Johnnies: Emma Seba (SF20)
December 6, 2018 | By Aviral Chawla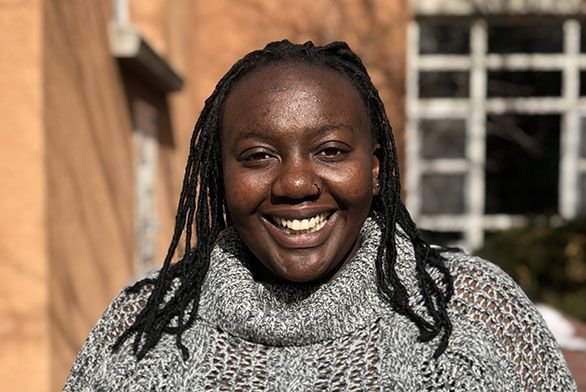 Emma Seba (SF20) has always had a passion for learning.
"When I was a child, I loved encyclopedias," she says. "I used to [ask] my grandmother to get me encyclopedias for every birthday and every Christmas."
Seba is a native of Nairobi, Kenya. One year, in advance of a family vacation to the beach, she received an encyclopedia of animals.
"I spent my entire vacation trying to categorize and classify different animals, and I guess that is when I knew I loved everything about the sciences," she recalls.
Her interest inspired her to pursue a pre-med track at a university in Kenya, but she began having doubts soon after beginning her studies. She sought something more and was thrilled to discover St. John's.
"Just the way St. John's takes on its curriculum seemed interesting to me," she says. "I liked that I did not have to build my own degree, that it was given to me with the kind of integration that is required with all of the different subjects."
Seba left her pre-med program and enrolled at St. John's in 2016. In Santa Fe, she has experienced the diversity of education she'd been looking for and discovered a new love: math. She was recently featured as part of St. John's "We Question" series discussing "Beauty and Elegance in Mathematics."
"I loved going from geometry to astronomy to conics and now to calculus," she says. "Taking this journey through maths has really solidified the basis that I had before. I knew how to do maths and how to do the operations, I just didn't understand why they worked the way they did. Being able to derive all the geometric proofs, and [figuring out] how we get to 'three angles in a triangle are equal to two right angles' has been interesting."
"Lab has also been a lot of fun," she adds, "getting to explore all of these different things, talking about pneuma of the heart and the spirit of the heart and then coming to auricles and ventricles."
Though it's math she plans to pursue post-graduation, she remains invested in all of the subjects at St. John's.
"[My favorite is] the livelier tutorials, when everyone has an opinion and everybody is talking and there is a great debate going on," she says. "It is just so connected, and everybody comes out of class feeling we just did what we are so supposed to do at St. John's. We just feel so alive, continuing the conversation outside of class as well."