Johnnies Breach Intelligence World with Help of MICUA Internship
December 11, 2020 | By Les Poling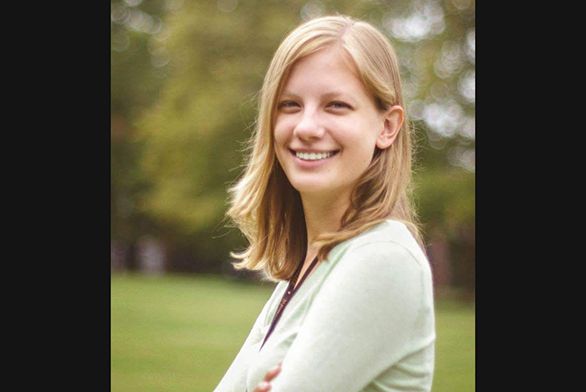 To visitors or curious prospective students, St. John's College likely doesn't stand out as a potential springboard into an intelligence career. After all, there are no cybersecurity or international relations majors (there are no majors, period), and students spend more time studying figures like Plato, Douglass, Woolf, and Marx than they do contemporary players in foreign policy. But in Annapolis, the college's participation in Maryland Independent Colleges and Universities Association's (MICUA) National Security Scholars Program (NSSP) has helped students use their St. John's education to dive into the world of national security and intelligence.
The eligibility criteria are strict, and the application process strenuous. MICUA NSSP applicants must be U.S. citizens and have a minimum 3.0 GPA—or, for St. John's students, a "demonstrated record of achievement." The application itself requires a typed resume, a 300–500-word essay, an official transcript of grades and credits earned, and two letters of recommendation. Successful applicants are then invited to apply online for an internship with the government or a defense contractor; a month later, applicants participate in an in-person interview.
But for many, the destination warrants the journey. In addition to a paid summer internship with a program partner, national security scholars may receive a scholarship of up to $15,000 for the next academic year. For some Johnnies, the program even leads to full-time work.
Alexandra Skokandic (A12) first remembers seeing an advertisement for the NSSP internship on a bulletin board outside the Annapolis campus coffee shop back in the early 2010s. At the time, her primary motivation was the scholarship amount listed at the bottom of the flyer; she was working several service jobs in Annapolis (this was before the college slashed tuition), and "it was a struggle for me to make it work every year," she recalls. When she saw the MICUA NSSP flyer, she says, "I thought, 'There's no way that I would get this. But if I did, it would solve my problems.'"
She applied for the program and, to her surprise, was accepted; then, the night before her internship at the National Security Agency began, she read the details of her position. "I remember thinking, 'I don't know anything about cyber security. I'm not a math person," Skokandic says. "I loved math at St. John's, because it's different. But I thought this was a mistake; what could they possibly want with me?'" Other NSSP students came from schools with intelligence-friendly majors like computer science and forensic accounting; they had studied languages like Chinese, Arabic, and Spanish. "I initially felt like I was at a disadvantage," she recalls.
But ultimately, Skokandic's St. John's education proved invaluable. She and her fellow NSSP students spent the first half of the summer in training: learning the basics of classification systems, the day-to-day work of the agency, how and why intelligence workers do what they do. Then, in the latter part of the summer, the national security scholars partnered up and worked in an office on an actual intelligence project. At that point, any illusion of a disadvantage vanished, Skokandic says. "It's all about analysis, critical thinking, and asking the right questions, then writing reports on what you find. I found that to be directly tied to what we do at St. John's." Near the conclusion of the summer, she remembers attending an interagency meeting at the National Counterterrorism Center in Washington, DC. Members of the U.S. Intelligence Community gathered around a table; someone asked a question, discussion ensued. "It was seminar," she says. "I thought, 'I know how to do this.'"
At the end of the internship, Skokandic accepted a full-time job offer at the agency, which led to a wide-ranging career in intelligence in the nearly 10 years since. And while her job titles, responsibilities, and professional passions have evolved throughout the decade, she contends that her St. John's education has consistently proved vital in her intelligence work. In both abstract and concrete ways, she says, "the ability to learn quickly and ask the right questions, to teach yourself things when there isn't a set curriculum—which I think I got from St. John's—I've found that to be extremely helpful."
As an example, she references a recent stint she spent in the office of the Middle East, Africa, and South Asia, reviewing analysts' assessment reports. Whereas daily analyst reports focus on barebones data, assessment reports require the analysts to take a step back and consider some of the big-picture questions: What does this long-term data mean? What are the implications for the United States? What might the future bring? Skokandic's job was to review those papers with a critical eye, exploring alternative conclusions and asking counter-questions. Did the analyst consider other elements? What if this piece of information is deception? "It felt like a return to my [St. John's] roots," she says.
In the last decade, Skokandic has earned a master's degree from Georgetown, travelled the world, spent time working in the National Counterterrorism Center, and experienced first-hand the twists, turns, and surprises of working in national intelligence. For Johnnies similarly interested in national security, she emphasizes the importance of applying for any relevant opportunity—including the MICUA NSSP internship—without fear.
"Go after the things you want to, put yourself out there, apply for any opportunities that come up," she declares. Because even if Johnnies don't learn cybersecurity or advanced data analysis in class, they learn something vital in its own right: never stop learning.
The views and opinions expressed by the author do not necessarily reflect those of the NSA, DoD, or the U.S. Government.