For One Alumna, an Unexpected Path Led to an Award-Winning Career
March 8, 2019 | By Kimberly Uslin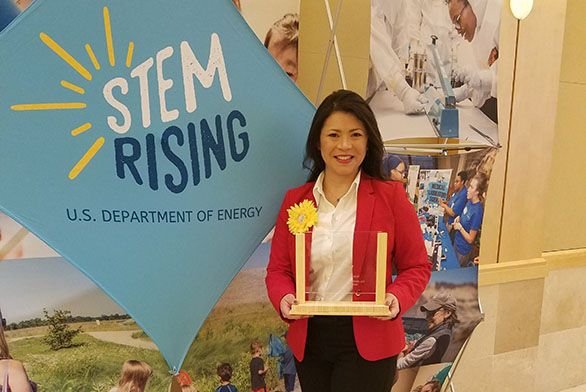 Growing up in Heber City, Utah, Melanie Santiago-Mosier (A00) jumped at the opportunity to join the Navy. The military, she thought, would provide an opportunity to leave the "somewhat insular environment" in which she'd been raised, and she enrolled at a Naval preparatory school in Rhode Island with the aim of heading to Annapolis after graduation.
Years later, Santiago-Mosier did make it to Annapolis—just not in a Navy uniform.
"The Department of Defense found out that I used to sleepwalk when I was a teenager, and so I wasn't able to go the Naval Academy," she recalls. "I found myself looking for a new opportunity."
With the help of the prep school teachers that knew her best and a pile of college catalogues, Santiago-Mosier happened upon St. John's College.
"I went through the catalogue, and I thought 'Wow, this is an incredible school,'" she says. "It was so different from anything else we had looked it, and I was immediately intrigued. It was just pure coincidence that it happened to be across the street from the Naval Academy."
Santiago-Mosier found St. John's to be "very intense, demanding academic and intellectual work," but it was the college's collaborative nature that appealed to her the most—and which proved the most helpful in her eventual career as a lawyer and policymaker.
"The awesome thing about St. John's is that we were all in it together, and that is incredibly valuable for what I do now," she says. "I do challenging work, but the ability to reach out and build coalitions and partnerships with other people is incredibly useful. That's how you get things done."
Inspired by the writing of John Locke and other political tracts read in the Program, Santiago-Mosier participated in an internship at a lobbying shop in Annapolis, where she was hired post-graduation.
"It was really cool for me to take that political theory and go into the policymaking political realm," she says.
While working in Maryland lobbying and policymaking, however, Santiago-Mosier's path became clear.
"I saw the work of different advocates and different people in the policymaking sphere—and there are many, many ways to be involved in the realm of policymaking," she remembers, "but the people I found myself admiring the most were lawyers. I admired the way they analyzed and advocated for policy, and I wanted to do it the way they did. So that's how I came to the decision to go to law school."
She enrolled at University of Maryland's Francis King Carey School of Law—where she found the critical reading, writing, and analytical skills she developed at St. John's particularly helpful—then worked as counsel and policy analyst for the Maryland General Assembly.
"In 2007, the biggest utility in the state was going to need to raise residential customers' electricity bills by over 70 percent," she recalls. "This was a huge public crisis, and I was brought in to work on that effort. One of the things I did was help to write a really interesting report—well, interesting to me—on the structure of Maryland's electricity market compared to other states in the country."
It was a passion project for Santiago-Mosier, who was drawn to the immediacy of energy policymaking.
"What I found interesting about policymaking is the way public policy really impacts people in their daily life," she says. "Energy policymaking is one of the things that is integral. Every time you turn on a light switch, every time you turn on your TV, anytime you do something in your life that involves energy, there is a world of policymaking behind that."
Energy law, she found, was more complex and exciting than some other arenas she had worked in, and she soon moved into full-time energy work, first as the legislative director for the Maryland Public Service Commission, then as a government affairs manager at Astrum Solar, working her way up through Washington Gas Energy Services, Inc. and SunEdison before landing at her current position of senior director for access and equity for an organization called Vote Solar.
"Vote Solar is a nonprofit organization that advocates before state-level policymakers to advance solar [energy] and make it accessible," she explains. "My work involves helping our teams work on policies and programs that will make solar deployment more equitable and accessible for underserved communities."
Santiago-Mosier was recently awarded the Advocacy Award during the 7th annual U.S. Clean Energy Education and Empowerment (C3E) Women in Clean Energy Symposium for her work in advancing clean energy through policy leadership. On the day-to-day, she helps to identify best practices and crafts legislation, programs, and policies to promote access to solar energy for underserved populations and to increase diversity and inclusion in the clean energy workforce.
"A study was [recently] released where the authors looked at neighborhoods that are suitable for solar all across the country, and they found a fairly stark disparity between neighborhoods that are predominantly white and neighborhoods that are predominantly people of color," she says. "There's a lot more solar in whiter neighborhoods than there is in neighborhoods of color, even comparing neighborhoods with the same household income and rates of homeownership."
Other points of interest include increasing access to solar energy for lower-income families and getting the message out that properly implemented solar can actually decrease electricity bills. Solar is also, she says, one of the fastest-growing segments of the market in the United States, with solar jobs growing at a rate of about 20 percent in some recent years—the highest rate of growth among any type of job in the country. And, of course, it's good for the environment.
"With the deployment of solar, you're offsetting fossil fuel generation," she says. "Underserved communities are disproportionately affected by fossil fuel generation, especially communities of color. These are communities that tend to live very close to coal-fired or natural gas-fired power plants that are spewing harmful emissions and particulates into the air. So when we use cleaner energy and deploy solar, it creates healthier air, healthier water, and healthier communities."