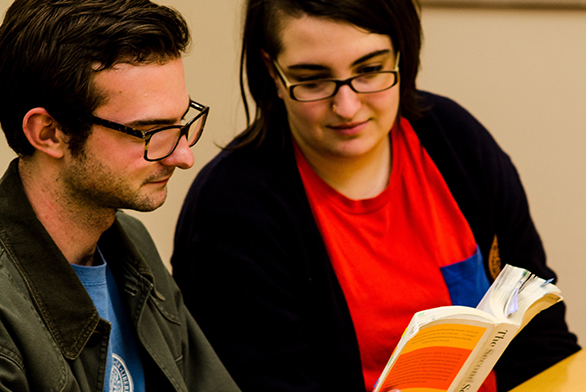 While the study of great books is central to a St. John's education, authors outside the Western canon recently got some attention thanks to efforts spurred by junior Emily Krause (A18).
Inspired by a preceptorial on Simone de Beauvoir's The Second Sex, led by tutor Rebecca Goldner (AGI02), Krause and her classmate Nathan Dignazio (A18) formed a study group on modern writers and issues surrounding traditionally marginalized communities. Focusing on such authors as Warsan Shire, Audre Lorde, and Sojourner Truth, the study group takes aim at political and social questions that are not usually explored in other classes in the Program.
During this spring semester, the group met bi-weekly for lunchtime seminars, focusing on short readings that are taken from literary, historical, and philosophical works. Average attendance was about the same as a tutorial—large enough to have significant momentum, but also small enough that it was intimate and conducive to sincere and productive inquiry.
The group's readings included "Conversations about home (at a deportation centre)," Kenyan-born Somali poet Warsan Shire's poem about a refugee's troubled relationship with her home and the alienation that vexes her relationship to herself, her new surroundings, and her origins; "The Master's Tools Will Never Dismantle the Master's House," an address by Audre Lorde critiquing the lack of representation of black and lesbian women at conferences on feminist writing; and "Ain't I a Woman?" a speech by African American abolitionist Sojourner Truth, who brings forward inconsistencies between professed and actual attitudes towards women, and calls for equality of rights, regardless of one's intellect or race.
For the group's fourth meeting, it returned to its origin by reading the introduction of The Second Sex, in which Beauvoir discusses in Hegelian terms how woman is Other to man and describes the relation between woman and man that arises because of this antithesis. She encapsulates the tension pointedly, saying, "Woman's drama lies in this conflict between the fundamental claim of every subject, which always posits itself as essential, and the demands of a situation that constitutes her as inessential."
Krause and Dignazio hope that by looking at perspectives of those whose lives and experiences are vastly different than their own, they can better understand the social and political forces that are at work among us in the world now.
"Something is lost when we don't take into account the differences among people," Krause says. Goldner adds that the study group shows something central to the college, that the conversations that we have in the classroom spill out and continue after class (and from time to time find their way back into class).
"And hopefully," Dignazio says, "(the seminars) provide some wisdom about the human experience."