Owners of Alumni-Run Software Company Share the Value of Johnnies in the Workplace
December 5, 2018 | By Anne Kniggendorf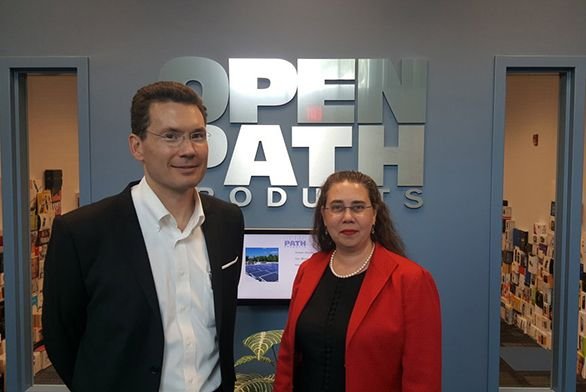 Johanna Wilson (A90) and Richard Smith (A90) were sitting next to each other during their first freshman seminar at St. John's College when tutor Chaninhah Maschler asked them each who was 'best' in The Iliad.
Smith spoke first, and after five minutes, concluded by turning to Wilson and saying, "Which is to say, I guess I defer the question to 'her.'" Smith says Wilson didn't speak to him for the following three years.
During senior year when their conversations resumed, Smith says he became smitten with Wilson and was anxious to make amends. Technology provided a means when Wilson's electric typewriter malfunctioned during senior essay writing and Smith (who worked for a software development shop) offered her a spare computer to use.
"This worked well until it crashed and her essay was completely lost a week before it was due," Smith says. "Fortunately, some friends from work managed to retrieve her paper from the ashes. I'm very grateful for their heroics, as the next 30 years may have taken a very different turn had they not saved her paper."
Now, they've been married for 25 years, have been co-running their own software company, Annapolis-based OpenPath Products, for 17 years, and are one of the biggest employers of Johnnies in the country.
Wilson says that over the years, about 27 percent of new hires at the couple's company have been St. John's graduates. Currently, seven of their 35 staff members are Johnnies, found through recommendations from tutors and current employees, their website, and the occasional Johnnie Jobs Facebook posting.
"We're a technology company, and our business depends on our ability to innovate and sometimes even to disrupt," Smith explains. "I think Johnnies are really good at seeing patterns and predicting trends and tend to be unafraid to think differently and to innovate. Bringing in that St. John's mentality has been key in many ways to our success."
While beneficial for both his company and himself, Smith sees hiring St. John's grads as a means of paying it forward. He has loved working with computers since his childhood, and when he was a student at St. John's, an alum with a software company hired him.
Wilson's path was not quite as straightforward. After graduation, she worked for a local telecommunications company that let her wear many hats. In conjunction with graduate classes, she became immersed in business, technology, financial analysis, and management. With her mentors' support, she started a division within the company that connected the newly realized Internet and wireless messaging worlds, winning many patents in the process and growing the division to 50 people. Since founding OpenPath Products, Wilson and Smith have continued to learn and adapt to the rapidly changing mobile technology market.
"Learning is important, especially in this business," she says. "It's always been a case where the technology has been changing so rapidly that we definitely need to stay up on it. [We need to] read and think about how things work and how we might apply things you might have seen in the past to the next version of software that comes out."
This ability to learn and think critically, the couple says, is why hiring Johnnies seemed like such a natural fit.
Smith and Wilson hired Raphaela Cassandra (A10) in 2013 to work in quality assurance. Five years later, she's a developer writing code and working on a master's in computer science at Johns Hopkins.
Cassandra started thinking about a career in a STEM field when she was a junior, but wasn't sure where to begin. With guidance from tutor Jim Beall, she found an opportunity at the Naval Observatory in Washington, DC.
After graduation, she worked in STEM outreach at the Naval Academy. Overall, she says that Johnnies are more prepared to work in STEM than they might think.
"We do a really intensive math program, and we shouldn't undervalue that," she says. "The math we do is important and does teach your brain to think in a rigorous methodical way. So, obviously, I didn't take a computer class at St. John's, but I did go through all of Euclid and figure out how things work mechanically and methodically and could apply that same thinking."
"The nice thing about Johnnies—and certainly Johnnies don't have an exclusive lock on this—is that they're also free thinkers and, to some extent, unpredictable," Smith adds. "We don't want to constrain people on what they can do. We want people to bring in fresh ideas and find new ways they can help improve our company and our customers' lives."
Wilson is careful to note that she does not value one employee's education over another's, as interests and skillset play just as crucial a role.
At the same time, however, "Johnnies tend to be good communicators, both written and spoken, which is very helpful."
"[Our] 'secret sauce' continues to be communication, innovation, and the respectful exchange of ideas," Smith says. "These are values we learned at St. John's and which continue to serve us every day. This is why SJC-educated engineers are so valuable to our team and to our continued growth."
While Smith was a student working for an alumnus in tech, he started to see "how valuable the SJC education is to entrepreneurial and software initiatives."
"We were working on games and business applications for very progressive hardware: The Commodore Amiga and the Apple Mac," he says. "I recall thinking even back then that the rate of change in business and technology would make Heraclitus proud; 'everything flows', especially it seems in our business"
Cassandra says she's thankful that both of her employers are Johnnies, adding that movement within a company would be more restricted if someone didn't intimately know her educational background.
"They know that Johnnies can figure stuff out and ask the right questions," she says. "I definitely have an amazing opportunity here and it would have been harder to get to where I am without Johnnie employers or without people who knew the school."