Pari Sitaula (SF16) Gives Back Through Alumni Association Service
April 6, 2023 | By Salomon Cordova (SF22)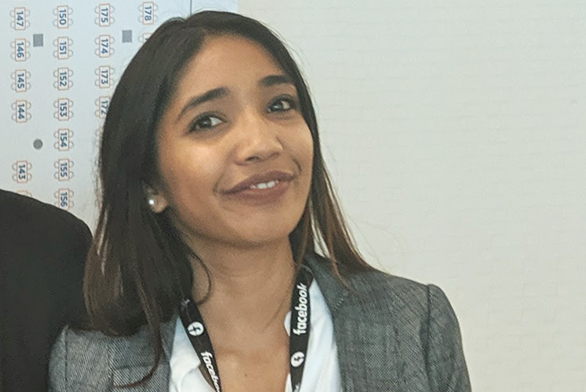 What is it like to arrive to the college from another country?
"It was a weird and unique journey," says Pari Sitaula (SF16), who came to St. John's College from Nepal in 2012. "Just showing up in Santa Fe, I didn't know what to expect."
Not only were there stressful F-1 visa issues to navigate, there was an entirely different cultural environment to adapt to and academic challenges abounded. "My friends had talked about the vigorous reading and lack of exams," says Sitaula. "But the reality was that St. John's is a lot more challenging than that. It required me to access a different part of my brain than I had previously been trained to use in school, and it was a struggle for me to develop the new level of consistency that my studies demanded."
Fortunately, there were several other Nepali students on campus who helped Sitaula feel a sense of belonging, as well as tutors who served as a grounding presence and support system. "Being a young international student," Sitaula adds, "there were many personal issues that I had to work through that made things difficult."
Today, the college is working to improve its support systems and retention rates for students like Sitaula: for international students, for students of color, for women, and for students who are the first in their family to attend college ("first-gen students"). In return, alumni like Sitaula are stepping up to help the college in these efforts, often by serving on the Alumni Association Board (AAB) or as volunteers with the Association.
Recently, a call from AAB President-Elect Katarina Wong (A88) provided Sitaula with an opportunity to serve. "When I got the call that I had been nominated to the alumni board, I felt that St. John's is really a gift that keeps giving. I saw it as an opportunity to provide continued support to those students who, like me, may need help creating and taking advantage of opportunities. When I was a student there weren't as many opportunities creating viable exit strategies for international students."
There was one career opportunity, though, that set Sitaula on an important path. As a senior at St. John's, Sitaula received an ARIEL scholarship to intern as a court- appointed special advocate with Orleans Public Defenders. The internship helped bring their interest in the law into tighter focus. Soon after, Sitaula enrolled at Tulane University Law School, graduating cum laude, with an interest in juvenile law and later graduated from New York University with a Master of Laws in taxation.
Today, Sitaula is a corporate attorney who serves as an associate at Arnold & Porter. They were also recently elected to serve as the director/liaison of the Alumni Association's diversity, equity, and inclusion working group.
"I remember my sophomore don rag being pretty harsh," says Sitaula. "I was outside afterwards and Mr. Hunt [Santa Fe tutor Frank Hunt (A75)] came to check in and console me. His concern helped me realize that the tutors weren't just resources, they were humans with whom I could have real relationships. That was a lot harder to find in the other universities I've attended. Looking back, I can recognize that St. John's, and the people there, taught me that there are many more aspects to college than just academics."
Sitaula's tutor, Hunt, believes that the relationships one builds through the unique community of peers that St. John's fosters is part and parcel of the skills that one receives from the education the college provides. "We should never forget, in my opinion, that we are preparing individuals to live as responsibly and as compassionately as possible," he says. "It is valuable to understand that we all are beneficiaries of the knowledge that comes from the friendships and conversations that we build."