Paying Tribute to the Annapolis Campus Bookstore With Manager Melinda Rooney (A84)
September 12, 2023 | By Meliha Anthony (A25)
Melinda Rooney (A84) has loved the St. John's campus bookstore in Annapolis since she was a student. Now, as the manager, she's about to oversee its first real relocation in decades.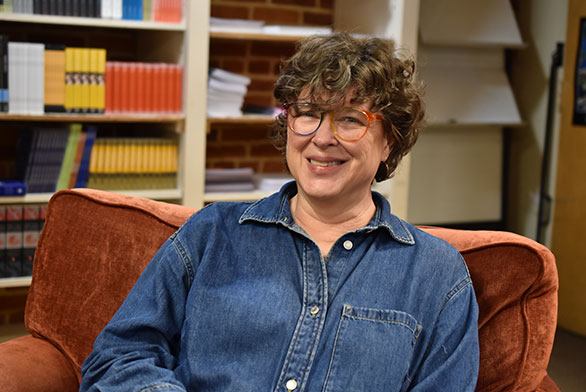 Rooney recalls how on her first day of college, she moved into her room on Humphreys Hall's third floor, said goodbye to her parents, and immediately traveled downstairs to browse the tomes lining the basement store's shelves. This, she says, has been a hallmark throughout her childhood and adulthood: finding the nearest bookstore in any new place, seeking comfort and curiosity in the presence of words.
"I was able to just get lost in it," Rooney says. "The first day is what sticks with me most vividly; it was where I wanted to be before I did anything else." For the most part, the campus hub has not changed since Rooney's time as an undergraduate student: "I think the carpet is the same!" she quips. Its low ceiling, dim lighting, and brick archways make for a quaint if not cramped environment.
Rooney raises the question that Johnnies from every graduating class have likely heard: "What are you going to do with a St. John's degree?" But every job she's had is because she went to St. John's, she says, and having a liberal arts education as a foundation for her career has served her well. Rooney spent her postgrad years getting her master's degree in English at the University of Illinois Chicago, teaching at Carthage College, writing freelance and fiction, and working jobs in book sales and management–all of which became available to her through the St. John's network. During the 2021 fall semester, she started her current job at St. John's, right in the wake of the pandemic. Stepping into the management position was, for Rooney, a dream job.
The bookstore was hit hard by COVID and the lack of students on campus. This initial emptiness inspired Rooney's mission to foster the most comfortable atmosphere possible and meet the community's needs.
"People being in a virtual environment for a long time, when students came back to the classroom, they were all super eager to have physical books in their hand," Rooney says. Now, she says the struggle is "making sure, as best I can, that we've got enough books on hand for students."
Rooney considers listening to voices in the community to be the most integral part of her job, ranging from bookstore staffers to college administrators, students, and tutors who shop in the store. She asks which non-Program texts and merchandise they would like to see stocked and asks how they could improve. Right now, her ability to listen is more important than ever as she prepares for the bookstore's big move.
There had been talk about a change of location for at least a couple of years, Rooney says, citing American Disability Act (ADA) regulations and concerns about the size of the current space as two driving factors. This only became possible once the college received a $15 million gift from the Jay Pritzker Foundation in November 2022 for the renovation of Campbell Hall, a vast residence hall in the center of campus. Its makeover is set to include refurbished student rooms, a newly relocated campus coffee shop, and of course, the revitalized campus bookstore.
"The opportunity that we'd kind of been talking about in … dreamy, aspirational terms … suddenly it was a concrete reality," Rooney says. Once the store relocates to Campbell–the goal is fall 2024–the new space will be more visible and central to the campus, Rooney explains, both of which will play an important part in fulfilling plans for it to become a community gathering spot. It will be about 25 percent larger than its current location, enabling more items to be stocked. As for right now, being an active listener allows Rooney to keep on envisioning what the bookstore's ultimate role and aesthetic will become.
"The opportunity, [and] challenge too, is to try to make it a warm, intimate, welcoming place," Rooney says, while also "embracing the fact that we're moving into a bigger space." She foresees a vibrant future with book signings, author events, and partnerships with the campus' Mitchell Art Museum where the store would carry specific books corresponding with current art exhibits.
Johnnies old and new have expressed their appreciation for the campus bookstore's "cozy" atmosphere, which the school aims to preserve going forward. Luckily, though, Rooney says that the student community is good at finding a balance in their respect for the school's history and traditions.
"We're wary of change, but we also are willing to approach it," Rooney says.
Reminiscing about her own time as a student, Rooney says that she often steps out onto the quad and sees students dressed similarly to when she was at school, with the only difference she notices being that "everyone has a wild hair color now."
"It's funny; it feels in some ways like no time has passed," Rooney says. "It's both like I'm back in that period of my life, but a million years away from it." Working in a place so intertwined with her past–and her future–is gratifying.
"I have this very strong connection to the college," Rooney says. "I loved my experience here. I feel like it shaped my entire life." And as she approaches a new phase in the bookstore's journey, Rooney plans to take the lessons she's learned with her: "I'm just going to keep listening to people and have that guide me forward," she says.