A Program Without Borders: Johnnies Pursue Opportunities to Share the Great Books
How can the type of vital academic questioning conducted at St. John's be encouraged beyond our two campuses? These alums have some ideas.
September 21, 2023 | By Eve Tolpa
The rigorous, open-ended inquiry of the St. John's Program is well known to Johnnies. They might not be aware, however, of the number of partnerships between the college and other programs that advance that particular approach to learning.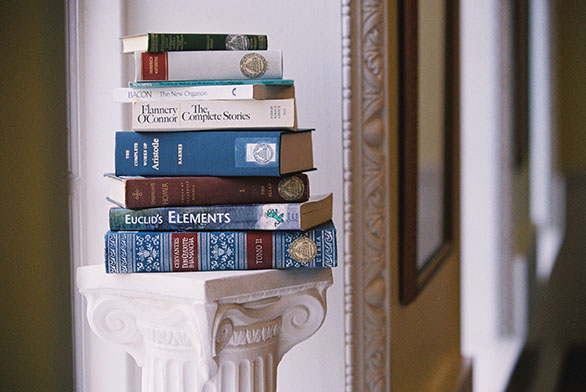 Whether they point students in the direction of St. John's or foster opportunity for members of the college community, these organizations "are having an impact on education by bringing in discussions of foundational texts," says Emily Langston, former associate dean for graduate programs at Annapolis.
Michael Mlodzienski (AGI15) is the national faculty talent recruiter for Great Hearts Academies, the largest classical education network in the country. Comprising 44 public charter schools in Arizona, Texas, and, starting in fall 2023, Louisiana, it aims, he says, "to cultivate the minds and hearts of our children, from kindergarten all the way up."
"We see the pursuit of the things that are universally true and good and beautiful as being worthy pursuits for their own sake," he continues, "which I think is exactly the same mindset at St. John's."
He considers the organization an obvious fit for Johnnies pursuing educational careers—in teaching, leadership, or home office support roles from accounting to development—and estimates that nearly 40 St. John's alumni are currently employed by Great Hearts.
At any given time, there might be about five Johnnies working at the Colorado Springs-based Thomas MacLaren School, cofounded by Executive Director Mary Faith Hall (SFGI97) and her husband, attorney and former teacher Eric Hall (SFGI94), who met as Graduate Institute students.
Like Great Hearts, MacLaren School offers K-12 programming, and its approach overlaps somewhat with St. John's. "We have a very similar reading list, but we go at a much slower pace," Mary Faith says.
MacLaren participates in the St. John's Southwest Scholars program, which seeks to attract students from New Mexico, Texas, Colorado, Arizona, Utah, and Oklahoma to undergrad, GI, and summer programs. "It's this really bilateral relationship," says Mary Faith. "It provides a lot of opportunities to expose both our students and our faculty to St. John's."
Reid Pierce (EC08) is also uniquely situated to introduce students to St. John's. A teacher at Mahindra United WorldCollege (UWC) in Pune, India, he observes "the relationship between St. John's and UWC getting stronger and stronger."
Though it doesn't utilize a Great Books curriculum, UWC shares with St. John's a passion for awakening a love of lifelong learning in its students—and since St. John's is a Davis United World College Scholars partner institution, UWC students are able to receive major financial support to attend. "I've encouraged several students over the past few years to go to St. John's," Pierce says.
Sanyum Dalal (SF25) was recommended to the college by Pierce. "He told me that I would really like St.John's and that it would be a great fit for me," she says. Dalal fell in love with philosophy at Mahindra and is now continuing the pursuit as a Davis Scholar at the Santa Fe campus.
The Annapolis campus was recently involved in the Bridge to the Liberal Arts Through Primary Source Texts (BLAST) program, a three-year partnership between St. John's and Anne Arundel Community College (AACC). Funded by a $100,000 National Endowment for the Humanities grant, BLAST trained community college faculty to lead discussion-based classes. The program wrapped up in January 2023, but AACC faculty continue to use the teaching methods, which are extremely popular. St. John's is building on that success, says Langston, by pursuing additional partnerships with community colleges in collaboration with a separate organization called the Great Questions Foundation.
A fairly new partnership with the Notre Dame of Maryland University gives GI students on both St. John's campuses online access to attain certification for teaching in public schools. "The agreement has been finalized," says Langston, "and we already have a couple of students from the Annapolis GI who are interested in moving through it."
The Annapolis GI has long enjoyed a partnership with the University of Maryland Francis King Carey School of Law, where nine academic credits from the GI can be applied to a JD, and vice versa. "This joint-degree initiative has been available for a couple decades," Langston says. "We're making it more visible."
Then there's the Ramsay Centre for Western Civilisation, in Sydney, which, Langston says, "is trying to help revive liberal education in Australia, where almost all post-secondary education is technical or vocational." It offers a different kind of GI partnership, providing scholarships for up to six students a year to earn an MALA at Annapolis while participating in a Washington, DC, internship.
"I feel incredibly fortunate that the philanthropy of Paul Ramsay has allowed me to study at St. John's," says Sydney Rowe (AGI24). "There's a mystical power to an education that draws its curriculum from the Great Books."
Mlodzienski goes one step further. "Pursuing education for its own sake is revolutionary," he says, noting that it shouldn't have to be. "That's what we're trying to change."
ARE YOU A JOHNNIE IN EDUCATION? The Teacher Project aims to identify, recognize, and partner with alumni educators from all levels (elementary to university) to be passionate advocates of St. John's College, Socratic inquiry, and the study of human thought. Complete a simple form and St. John's will send you a package of swag, including a Great Books poster for your classroom! sjc.edu/teacher-project