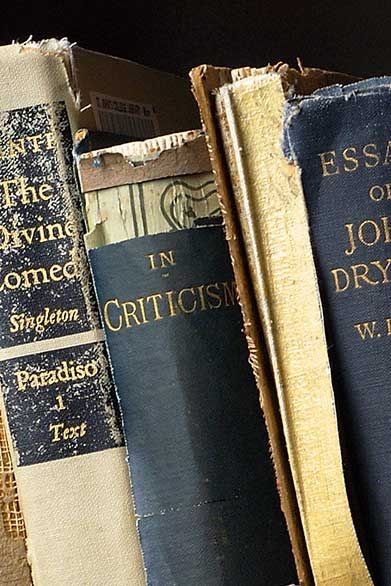 ANNAPOLIS—The discussion never stops at St. John's College. When students were on break this summer, faculty gathered in small study groups to read and discuss the great books.
"It is amazing to think that in a single weekend, a group of nine tutors can spend over ten hours together discussing a play by Shakespeare, and never fall short of interesting things to say," said Louis Petrich, leader of a faculty group in Annapolis studying Henry IV, Part 2.
"This experience in itself is a lesson in the art of conversational learning."
This summer, groups focused on the fragments of Heraclitus, Plato's Theaetetus, and Shakespeare's Henry IV, Part 2. Two grant-funded groups also met, one from a Hodson Trust grant for tutors to examine the senior lab curriculum and the other funded by an Andrew W. Mellon Foundation grant to study metaphor.
"For tutors, collaborative learning is not confined to the classroom, but an activity central to their own learning and an intrinsic part of their own intellectual lives," said Margaret Kirby, leader of the Mellon group.
Kirby said that the groups allow the faculty "to engage intensively in the collaborative intellectual activity that is at the very heart of what makes St. John's such a vibrant academic community."
Tutors said that the groups invigorate the participants, inform further study, and develop community among older and newer members of the faculty.
"This is an opportunity for tutors to learn from one another, and to become better acquainted with one another, to enjoy one another's company in the activity that they value most highly," said Joe Macfarland, leader of the group reading Plato's Theaetetus.
The study groups play an integral role in the classroom. For instance, the Hodson study group led by Suzy Paalman is examining how and whether the senior lab curriculum may include more lab practica. The grant includes money for the tutors to visit other colleges where they might see quantum experiments in action.
"We have already traveled to Colgate University to work with quantum optics equipment in the lab of Dr. Enrique Galvez. The work we did there seems possible for us to do here at St. John's, and we are very excited about the prospect of introducing it to other faculty and to our students."
"The intellectual excitement and learning that can result from working in a study group also translates to students when tutors share their interests inside or outside the classroom," said Paalman.
Petrich said that study groups make him more versatile in his questions and approach to a book.
"By listening to my colleagues, I can, in some sense, incorporate their concerns and responses, and thus become many-sided. Since the students are many, and the tutor is only one, it is good to have many sides at one's disposal."
—Brady Lee (AGI14)