Recent Grad Lands Job in the Publishing World
November 10, 2019 | By Tessa Wild (A23)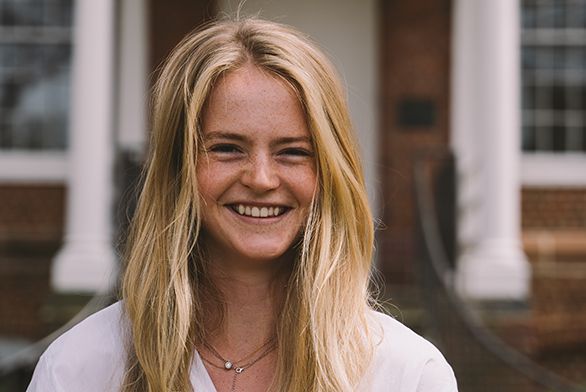 Like many college seniors, Karlena Haase (A19) was a little nervous as the date of her graduation approached. She wasn't quite sure what she wanted to do, and she didn't want to dive into a career right after graduation without being sure it was the right choice.
To test the waters, she applied for her an internship through the Hodson Trust: a position with the sales and marketing team at New York University Press.
"I wanted to make the transition after graduation a little smoother by jumping right into something that could help me gain a better understanding of what I can or cannot do," she says. "I was given many different responsibilities that ranged from writing and scheduling social media posts, researching book titles, coming up with short descriptions for current or new editions of books, to reaching out to professors. There was always a new task for me every other day."
"I had never worked for a publishing company before, hence why the [internship] experience itself was crucially important to my development after school," she adds. "After my sophomore year, I interned with an online marketing agency in San Diego, but my Hodson internship was far different."
She learned a lot about both the industry and about her interest in it—ultimately resulting in a job at Bloomsbury Publishing, where she was hired immediately after her internship as a Higher Education Sales Representative. The position involves working with professors on the consideration of what books they want to use for their courses.
"It's been a great experience so far," she says. "I'm still learning something new every day. I've always considered going to grad school for journalism, [but] for now, I've landed in publishing, and it's a great way to find what it is I might want to do in the future."
And while Haase says she owes a lot to her internship experience, she believes the root of her career success began at St. John's. Haase, shy by nature, says she would have found it incredibly hard to earn a job with Bloomsbury Press had it not been for her experiences at St. John's—particularly her experiences with tutors.
"When it came to the week before graduation, I made a point to meet with as many tutors as possible," she says. "I had to thank them for their time, their empathy, and their willingness to listen to my thoughts."
"Something I've realized from being a St. John's student is that we are great at having deep and philosophical discussions, but we forget to use our multifaceted skills from the program to our own benefit when it comes to getting a job or internship after we graduate," she adds. "Four years of demonstrations at the board, participating in as many clubs as humanly possible on campus, and speaking freely with tutors after class made the unpredictable life after St. John's easier to walk on."
Still, though, she advocates planning in advance to help ease the transition from the seminar table to the working world.
"The more you plan in advance, the smoother the landing will be once you are handed your diploma."