Santa Fe Alum Elizabeth Harball on Journalism and Seeking Truth in Alaska
May 29, 2020 | By Eve Tolpa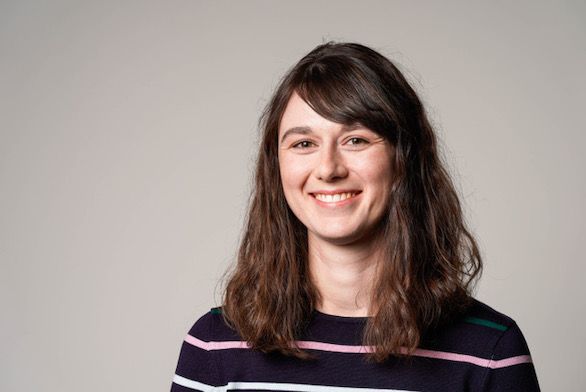 Elizabeth Harball (SF09) vividly remembers one of the first laboratory texts she encountered during her freshman year at St. John's: "Seeing," from Annie Dillard's Pilgrim at Tinker Creek
"Along with that text, we were sent out to do a series of sketches of wildflowers in the arroyo by the school," she says. "I remember that Dillard inspired rich, careful observation, open-mindedness, and a deep appreciation for the natural world."
"All those things resonate with me still."
Now a news editor at Anchorage Daily News, Harball currently focuses her observation on environmental and energy issues, two topics that piqued her interest after she left St. John's and graduated from Columbia Journalism School.
At that time, she was living in Baltimore, "looking for a position wherever I could get one," she recalls. "I interviewed with E&E News in Washington, DC, where the editor of Climatewire at the time, John Fialka, knew of St. John's (his wife graduated from the Annapolis campus). John brought me on as an intern, and I was eventually hired."
She spent the next six or seven years covering energy and the environment, first in DC and then in Alaska, where she started out as a reporter for Alaska Public Media. "There's so much to that beat—science, politics, technology, and existential dilemmas without easy solutions," she says. Digging into those topics required crucial skills that Harball honed as an undergraduate.
"I needed to know to speak up when I didn't understand at St. John's; to be a journalist, that's essential. I needed to have the tenacity to pursue answers when I didn't understand something at St. John's; that's another essential skill in journalism. When you're trying to learn what's really going on, there's no room for pride, shame, or giving up. I started to figure that out at St. John's—journalism hit that lesson home."
In October 2019, she joined Anchorage Daily News—the Alaska newspaper that just won the 2020 Pulitzer for Public Service.
"I was not part of the project that won—I joined long after it was conceived and after many of the stories had been published—but I am so immensely proud of my colleagues," Harball says. "We're a relatively small paper, but our leadership believes our state still deserves great journalism, and we try our best to achieve that every day. It's awfully cool for us to be recognized in that way."
In the years between E&E News and the Anchorage Daily, Harball transitioned from journalist to editor—something she calls "an incredible learning experience."
"I love talking about the big picture with reporters," she says. "And then, when they file, I love working with [them] on the writing to make the story as effective as it can be—whether it's run-of-the-mill city hall coverage or a deeply reported feature on how rural Alaskan communities are adjusting to life during the pandemic."
Like many newspaper staffers, she has found her work intersecting with more than one major global development—especially in recent times. One case in point is the crash in oil prices. "The oil industry is significant in Alaska, both in terms of jobs and state revenue," says Harball, who notes that she has been editing a number of stories on that topic.
Between the economic and health issues facing her state, she adds, "The role of news as a public service feels very important and very real right now. It doesn't make it easy, but it gives us a mission we can believe in. I'm truly grateful for that. That's what keeps me going, even when I'm editing heartbreaking stories about the community I've come to love."