Santa Fe Campus Bookstore Launches Online Ordering
September 25, 2020 | By Hannah Loomis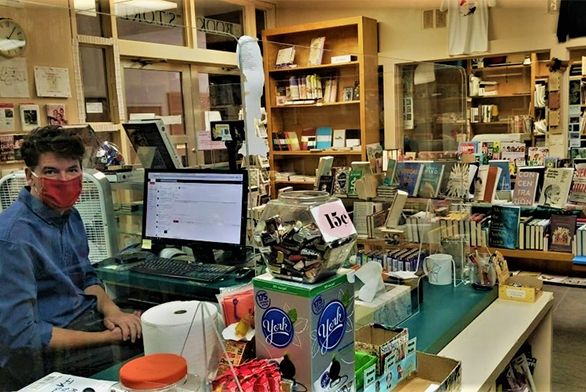 When was the last time you set foot in the Santa Fe campus bookstore? If you're a returning student, it was probably about six months ago, before the coronavirus pandemic shut everything down. If you're an alum it may have been a few—or quite a few—years. And most new students have never had the chance to survey the bookstore's collection.
Since the pandemic began, Floor Manager Theo Krantz (SF16) has fielded calls from a number of people—particularly locals—hoping to browse the stacks in person. But the college has maintained a strict no-visitors policy in accordance with state guidelines, limiting the bookstore to phone and email orders only. Until last month, that is, when the bookstore's online ordering website launched.
Krantz has worked for the bookstore for the past eight years: four years as a student worker and four as a full-time employee. He's wanted to make online ordering possible for a long time— people have requested it for years, he reports—but never had the capacity. That all changed with the onset of COVID-19; when campus closed in early March, Krantz suddenly had the time and means to finally make the website happen. "And I'm glad we did," he says, "because the fall rush would have probably been impossible without it."
Krantz and Director Andrea D'Amato are the bookstore's only full-time employees, and until last month, processing bookstore orders was time-consuming for both of them. Students would email their orders, ranging from books to college merchandise, to Krantz. Before purchasing, they often wanted to know what the products looked like—especially the t-shirts—so Krantz would text them photos for confirmation. Then he would try to track customers down by phone to get their credit card information. If the new site hadn't been up by this fall, Krantz says, processing and filling the hundreds of orders that came in during the first two weeks of the semester would have been a nightmare.
Thankfully, the vendor for the bookstore's already existing point of sale system has a developer they use to build websites, which made creating the online ordering site relatively simple. The site also connects with the inventory system, enabling employees to easily manage stock. Building the site took about four months, and Krantz reports that, so far, the ordering system is smooth and people have been responding well. Miselo Matipa (SF22) says: "Ordering online might be easier for me because I'm on campus, but I will say that the bookstore is always very quick and very nice when I order. My orders are usually complete within minutes, and Ezra [Noe (SF22)] always puts a heart on my package!"
As of now, all of the books and about 90 percent of the physical store's merchandise are up on the website. Krantz is especially happy that the website automatically pulls the image, description, and other details of each book directly from the publisher, drastically reducing the time spent on manual entry. This means that Krantz and the bookstore's student workers can focus their time and creativity on the Instagram account they started during the pandemic, which has become a witty and informative vehicle for promoting the store—both to the St. John's community and to the city of Santa Fe.
Although Santa Fe has several small, independent bookstores, the St. John's College bookstore has distinguished itself with its Program-related offerings. "What [other local bookstores] have in popular fiction and current popular titles, we have in academic titles, classics, and Eastern and Western religion and philosophy," Krantz says. Also unique to the campus bookstore is a collection of books written by tutors and alumni; Krantz's next project for the website will be to create a designated section to highlight those books, as they are in the physical store.
And if you'd like to order something you don't see on the site? Krantz and D'Amato welcome suggestions. Send them a note through the Contact Us tab.