Santa Fe Campus to Host Graduate Liberal Studies Symposium
May 17, 2019 | By Eve Tolpa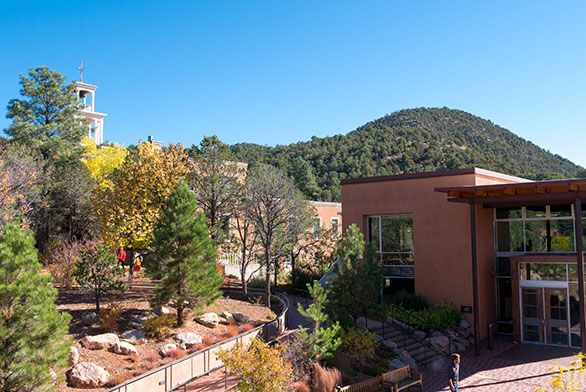 Devotees of interdisciplinary education will descend upon Santa Fe this summer when the St. John's College Graduate Institute hosts the 13th annual West Coast Graduate Liberal Studies (GLS) Symposium June 7-9.
The West Coast GLS was spearheaded in 2007 by Stanford University and Dominican University of California. St. John's College in Santa Fe joined the group in 2015 and is its easternmost member in the U.S.
Associate Dean for Graduate Programs David McDonald, whose office is organizing the symposium, describes the event as "a chance for students and alums to get experience presenting at an academic conference and a chance for member institutions to get together and have an energetic exchange among their students."
GLS members are united by a commitment to providing, promoting, and improving liberal arts education at the graduate level, and St. John's shares those values—but with a Program dedicated exclusively to liberal arts and interdisciplinary study via source texts, its role in the liberal arts community is unique.
"We have a different set of DNA," says McDonald.
Because St. John's is hosting this year's West Coast GLS symposium, McDonald says, "the character of the presentations will reflect the St. John's approach. We are also including our Eastern Classics students in this. We'll have a session on Buddhism, several sessions on literature, one that deals with themes of gender, another on education, one that has to do with art history, two sessions on science and technology, a session on music, a couple of sessions on full-on philosophical topics."
According to Barbara Amen, director of the Reed College MALS program and two-time host of the symposium, "the GLS symposium does not have an official governing structure; the directors make decisions as a collaborative group. Each school [or] director sort of follows the model of prior years, but also may change things a bit. Our model has been that there's no theme to the symposium."
There are seven other members of the West Coast GLS: Dominican University of California, Mount St. Mary's University, Reed College, San Diego State University, Simon Fraser University, Stanford University, and University of Washington Tacoma. All but one are attending the 2019 symposium, though it will not be a massive event.
"It's a small thing," says McDonald of the weekend. "I think there were about 100 attendees last year. It's deliberately a little more homey than a full-blown academic conference."
That intimate scale, he says, helps cultivate a "friendly, low-key" environment that fosters lively exchange.
Though the symposium is open to all, only GLS member students and alumni are eligible to present papers. Currently 42 presentations are scheduled, with diverse proposed topics that include Iranian Women Writers and the Navigation of Confinement; The Honey Bee in Western Art; In Search of the Endless Answer: Dogen's Tao of Inquiry; and Thoreau's Romantic Imagination of Technology.
Presenting students are also invited to submit papers for consideration in the West Coast GLS's online journal, Western Tributaries, created in 2014 by the group's directors to publish selected papers from that year's symposium. The site is hosted by Simon Fraser University, and usually about a half-dozen entries are accepted per year.
St. John's central role in the 2019 symposium reflects the rigor of the college's intellectual and academic life.
"It's indicative of all the student groups' rich classrooms and informal discussions that happen. It's exciting for us to get to host our peer institutions here in Santa Fe," says McDonald, adding that "the excitement the students are exhibiting" is even more noteworthy. "They are very pleased to have a chance to share their work, not just with fellow St. John's students but with other students at sibling institutions."
For Amen, the environment is "a setting that invites the sharing of ideas in a very congenial symposium context. It is a favorite event for my students, and we're very much looking forward to visiting the Santa Fe campus this June."
For more information, visit the GLS Symposium page on the St. John's website.