Santa Fe Campus Welcomes New Chef
September 17, 2018 | By Aviral Chawla (SF21)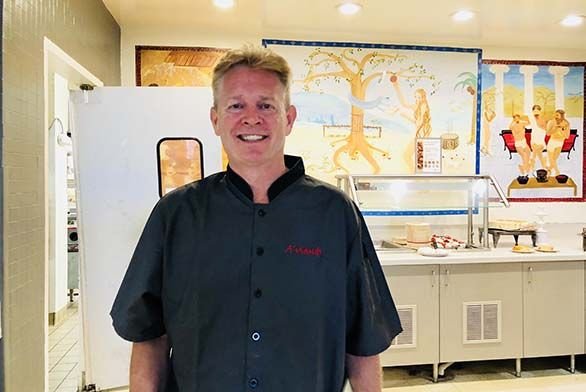 After serving as chef and baker at respected Washington, DC eateries in the Ritz-Carlton, Watergate, and Graham Georgetown Hotels, Stephen Hunter has landed in a more unexpected kitchen: the dining hall of St. John's in Santa Fe.
Hunter, a graduate of California's School for American Chefs and L'Academie De Cuisine in Maryland, was recently named chef manager of A'viands, the official caterers of the Santa Fe campus.
Having recently moved to Albuquerque to spend more time with his family, Hunter says he would "drive around to enjoy the scenery around town [in] Santa Fe" and became curious about St. John's. That they were hiring a chef manager seemed like fate; Alexa Rense, who held the position previously, had been promoted at about the same time Hunter came to the area. Now, he leads a team of chefs and oversees campus dining.
Hunter met with international Johnnies during a recent International Students Association meeting, sharing his experience with Asian, French, Mediterranean, Ethiopian, Thai, and Spanish cuisines.
"I am not well-acquainted with all the international recipes," he said, "but I love to learn more about them," adding that he plans to take initiative to include cuisine from each country the students represent.
In fact, Hunter hopes to make the Santa Fe dining experience more inclusive and democratic overall. He invites students to submit their "family recipes" and other menu options to him, as well as more basic information like which cereals they prefer. He also plans to improve current recipes with better-quality groceries and experiment with the menu based on what students do and don't like.
As he says, "the way to do it is to listen to people, try new things out, and keep tweaking."
In Annapolis, campus caterer Bon Appetit is also trying new things and is committed to using local foods. Chef Monica Becks was invited to participate in the Governor's Annual Cookout in July.