Schiff Family Celebrates St. John's Legacy
August 24, 2018 | By Anne Kniggendorf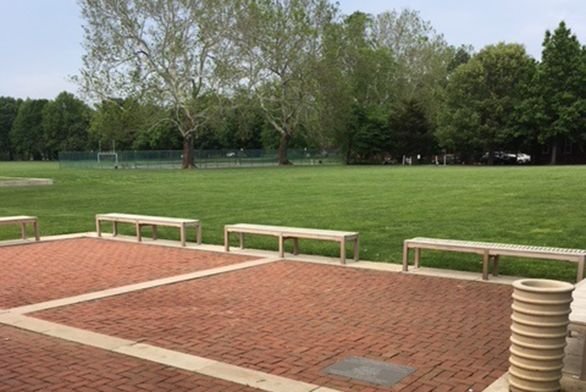 When the Schiff family moved from Russia to Annapolis in 1913, they not only found a community to belong to, but a place that itself became a part of their family.
More than 100 years later, St. John's College alumni Daniel Schiff (A65), his wife Janet Schiff (A66), and his daughter Sonya Linton (A00) have memorialized a bit of the space that has been home to four generations.
Daniel's grandparents, Max and Elke Schiff, moved their family of nine across continents and an ocean so that they could live a better life and, particularly, so that their children could receive a fuller education. He and his wife opened a shoe shop on the city dock where Mills Fine Wine & Spirits is today. (Daniel describes his grandfather as self-educated and very thoughtful.)
Business brought in customers from town and from the St. John's campus. Before long, Max had made friends with some of the professors of the old program.
Eventually, all four of their sons enrolled in the college: Joseph (A29), Hyman (A29), Benjamin (A35), and Charles (A37). Their three daughters finished college as well, but at other institutions—St. John's didn't admit women until 1951.
It didn't necessarily follow that because four family members had already attended the college, Daniel and his brother Howard (A62) would as well, but they wanted to.
"The uncles always talked about it a lot. It was a big part of our family," Daniel says.
Rather than feel disgruntled that their alma mater had eliminated its intercollegiate sports, fraternities, and many faculty members in order to implement the New Program in 1937, the Schiffs supported the change.
The New Program, introduced by University of Chicago Scholars Stringfellow Barr and Scott Buchanan, wasn't meant to be radical—rather a return not only to the college's original charter as described in the first New Program catalogue, but to education as it had been before Harvard University began offering electives to students at the end of the 19th century.
Daniel says that his family "had great respect for traditional education"—and over time, the college became a living part of the family.
"It was an extension of our home there," he says.
Aside from the initial family connection, Daniel met his wife Janet while they were students. After St. John's, he earned a PhD in the history of philosophy at Penn State. It was the only program of its kind at the time, and turned out to be a hotbed of St. John's alumni. Daniel, it seemed, would always be surrounded by Johnnies.
Daniel taught philosophy at Bucknell and SUNY Geneseo for three years before enrolling in law school. For the past 22 years, in addition to his legal practice, Daniel has been an adjunct professor of law at Seton Hall Law School. He teaches a course in the Philosophy of Law and Jurisprudence, always using a "great books syllabus" and a modified seminar classroom format. For the past four years, Daniel has also been actively involved in the NJLeep program to prepare inner city high school students to enroll in and succeed at competitive universities. There, Daniel teaches a five-week great books-type seminar.
Howard earned a law degree as well, and the two partnered to form a legal firm. Because Howard never married before his death in August of 2017, he frequently joined Daniel's family for meals, further reinforcing the Johnnie way in the Schiff household.
So, when Daniel's daughter Sonya found herself drawn to the classics in high school, she knew she had to see the tutorials and seminar for herself.
"My mom and dad are great examples of very educated people, very thoughtful people, as was my uncle," she says. "I knew what kind of people were drawn to it. When I went and visited, it sealed the deal and I knew it was a good place for me."
Later, as a student, she recalls a friend teasing her: "What does dinner look like at your house? Does it start with an opening question?"
"No," she answered him, "but sometimes it feels that way."
To further bridge the family and the college, not long before Howard's death, the Schiffs decided they wanted to extend a bit of their family permanently into the St. John's space the way St. John's had extended into theirs.
"My father always liked parks," Daniel explains, so they created "a little plaza where people can sit in Annapolis. 'Schiff Plaza'—I'm sure the whole family would have been very pleased."
Sonya says that the family thought of five tutors who most strongly impacted them and dedicated a bench to each: Robert D. Sacks, Ford K. Brown, Walter Sterling, and couples Alfred and Christiana Mollin and Richard and Iola Scofield.
The plaza is located by the planetarium and the Ptolemy Stone and gives students another outdoor area to make memories.
"You can go anywhere on campus and have 10 memories," Daniel says, thinking of his own time on campus. "This is where I tripped and fell. This is where I stole a kiss. This is where I did this or that. I remember when Francis Scott Key was dedicated. Every single spot on campus has all kinds of memories and recollections—the vast majority extremely pleasant."