Sophia Cote (A21) on Energeia and the Importance of Johnnie Art
February 1, 2021 | By Juana Melendez (A22)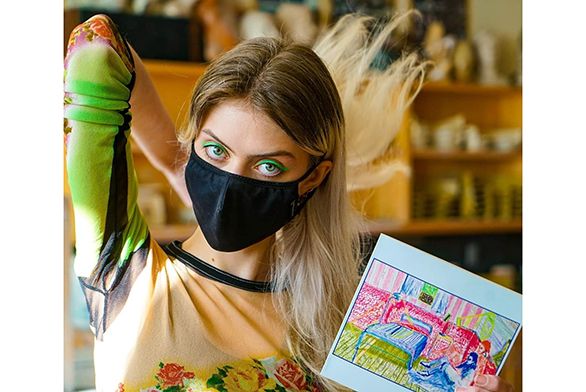 Energeia is one of the oldest and most popular student publications on the St. John's College Annapolis campus, focused primarily on art and literature produced by students, tutors, and anyone affiliated with St. John's. For Sophia Cote (A21), Energeia is "really about showcasing the students' talents and being able to come together to create and share their perspectives." As the current archon of the group that produces each issue of the publication, she has experienced, throughout her time at the college, how deeply important it is for the St. John's community to have a place that curates and communicates the points of view of a wide range of Johnnies.
"It can be very fulfilling to see your work and the [work] of others published," Cote says of the role Energeia plays in campus life. "There is something affirming about it. I also think it's beneficial to interact with artistic work simply for the pleasure of engaging with it."
Although Cote is the only current archon of Energeia, the team has been slightly larger in the recent past. A group of editors, including fellow senior Enkh-od Batzoring (A21), worked on previous issues, soliciting and reading submissions, editing them, and laying them out for publication—providing the community with an organized, visually compelling final product. "Our job is to offer a space for all different mediums and experiences," Cote says. "We try to make editorial decisions, such as putting certain works together, in order to produce a balanced compilation of the vast number of talents that the polity has."
Energeia is open to all art mediums and all forms of literature and poetry; the editorial team has even received and published mathematical proofs. In part, that spirit of openness is inspired by the Program. In his Metaphysics, Aristotle struggles to define the meaning of the word "Energeia," but hints that it refers to an activity or a type of work that the mind does inevitably and with a refinement that drives the body into action. Similarly, the publication Energeia aims to contribute not only to the exploration of what it means to work and be at work in the arts, but to share diverse ways of considering various aspects of life. Of the various mediums and views presented in the publication, Cote says: "It is interesting to see how two or more people can express similar feelings through mediums as distinct as ceramics, painting, knitting, and poetry."
Since the usual contributors to the publication are students, a part of Cote's job is to advertise and talk to her fellow Johnnies about submitting their work. "I think it is always scary to put yourself out there, but it is very cool to see other sides of your classmates and to be able to consider what is going on in their souls," she remarks. "Reading a poem from someone you have only had in math class can be truly exciting."
That sensation was heightened during 2020, a year unlike any other at the college. In usual circumstances, one would be able to find a copy of Energeia lying around the common spaces of the school—a regular reminder that the season has changed (Energeia is a biannual, with issues published in winter and spring), or an excuse to take a mentally stimulating study break. However, the past year threw everything off balance. The COVID-19 pandemic and the college's subsequent move online brought with it not only the difficulty of missing the college physically, but also the uncertainty of not seeing the people and places that students have grown to know and love. With those considerations in mind, the Energeia editors came up with something atypical for their last issue: a theme. Fittingly, they chose "Isolation"—something that most students and faculty have experienced in some way or another during the last nine months.
"I thought it was very beautiful to see what everyone in the polity made for themselves in this time and to look at the differences and similarities between the struggles of being alone during quarantine," Cote recalls. "It is wonderful to be able to think about how all of those separate and intimate experiences were able to come together as something that I think represents pretty nicely the polity's experience of dealing with a scary time."
Following the isolation-themed issue, Cote is already looking towards the future. For the next edition of Energia, which will likely be available in a digital form, she is hoping to expand submissions to include film and music. She's also looking forward to the long term. Cote's time at Energeia is slowly coming to an end, as she is about to begin her last semester at St. Johns. She is excited to announce the next Energeia archons: Grace Calk (A22), Elias Christian (A22), and Lysithia Page (A23).
And perhaps most importantly, she hopes Annapolis Johnnies will submit their work to Energeia in the future, whether for the next issue or in the years ahead. As an artist herself, Cote understands that it can be difficult to expose your work, but as a reminder that Energeia is precisely the space to do so, she says: "It is nice to feel appreciated, and we do genuinely want your submissions—even if people are not happy to submit, they are usually happy to have submitted!"
For more information on publications at St. John's, visit sjc.edu/publications.