Sophia Cote (A21) Explores the Philosophy Behind Art Conservation
July 12, 2021 | By Eve Tolpa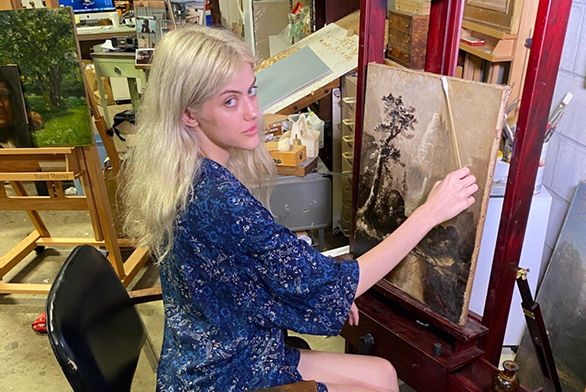 At surface level, the field of art conservation might not seem to have much in common with the academic disciplines encompassed by a liberal arts curriculum.
But during a Hodson internship at Kenneth Milton Fine Arts in Chestertown, Maryland, Sophia Cote (A21) discovered that the practical applications of a St. John's education are even broader than might be immediately apparent.
Cote spent summer 2020 working under the tutelage of Kenneth Milton, an art conservator with almost 50 years of professional experience. Unlike many of her fellow Johnnies who had to attend their internships online, Cote was able to complete hers in person, at the studio.
There, she says, her "time was spent quietly working alongside Mr. Milton and gaining a practical, hands-on understanding of the foundations of art conservation."
Just as students at St. John's engage in the act of philosophy instead of simply reading or talking about it, Cote says, "I was able to learn the theories behind methods of conservation through practice and experience, rather than learning them exclusively in the abstract."
To that end, she assisted her mentor in each stage of the conservation process. First, they'd assess a painting's chemical makeup to determine the cleaning strategy appropriate for removing decades' worth of dirt and varnish. Then, after taking the necessary steps to repair any structural damage to the canvas and its stretcher, they'd apply paint to restore the image. Finally, they'd revarnish the newly refurbished piece.
"Since the work at hand depended so heavily on the needs of the individual painting, there were, of course, many other techniques I became acquainted with," Cote explains, adding that she also helped Milton with light administrative work.
As Cote evaluated projects in the studio, she was confronted with the same kind of questions that arise in a St. John's seminar. "I found that while conservation is a very physical endeavor, it is still full of philosophical questions. Conservation can, in some cases, call into question the true nature of a work of art," she says.
"Is the true form necessarily the original form, or do time and damage become as much a part of the work as the original brushstrokes?" she asks. "If a painting changes drastically after restoration—as in the case of Rembrandt's The Mill, [where once] the centuries of discolored varnish were removed, the sky changed from a dramatic, moody ochre to a pale, picturesque blue—does our previous understanding of the painting become obsolete, or has the painting become something entirely new?"
Though Cote is quick to clarify that she didn't work on any Rembrandts during the summer, she found that "thinking about these sorts of questions did help me in learning how to make critical decisions regarding the process of conserving or restoring a piece."
Milton's serene, distraction-free studio was an environment that suited Cote well, allowing her to hone her focus and work for long stretches without interruption. "I find that careful, meditative work is good for my soul, and it is something I hope to be able to find in my future line of work," she says.
Each piece she encountered offered insights into its creation.
"With every painting I worked on, I gained a better appreciation for the rich life and history that each work of art has, a better knowledge of the myriad of techniques utilized by artists throughout the centuries, and a better understanding of what it means to see a project through from start to finish. Since I plan to go into the art world after school, this new understanding was a welcome one."
Fortunately, the goal of working in the art world is now well within her sights. Upon the completion of Cote's internship, Milton made it clear that there is a possibility of her working for him in the future. For that, she says, "I am very grateful."