St. John's College and Anne Arundel Community College Awarded NEH Grant
January 30, 2020 | By Les Poling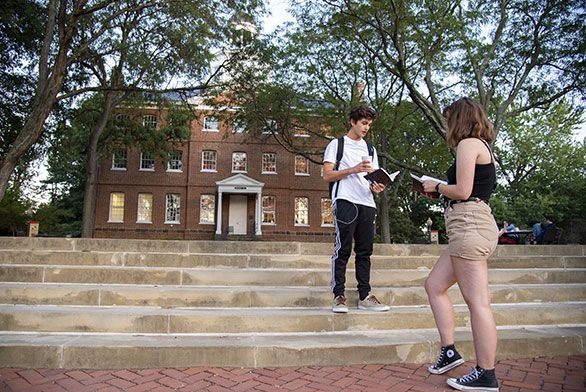 In recent years, St. John's College has defined itself as a pioneering institution striving to make a liberal arts education accessible for all. That's been most evident in the college's new financial model, which includes a 33% tuition reduction and the $300 million Freeing Minds campaign. Now, in partnership with Anne Arundel Community College (AACC), St. John's is expanding the Great Books Program even further. On January 14, the National Endowment for the Humanities awarded St. John's and AACC a $100,000 grant to fund an innovative partnership that will help implement a St. John's approach to humanities at the two-year college, establish a sustainable relationship between faculty and staff at each institution, and create a transfer pathway for students from AACC to St. John's.
The project—titled "Bridge to the Liberal Arts through Primary Source Texts," or BLAST—will take the form of a three-year partnership that integrates a Great Books curriculum and St. John's seminar-style classes into the existing AACC humanities program, simultaneously establishing student exchange programming between the two institutions. The theme of the program is Equity and Inclusion—two key values that are central to AACC's core philosophy, "the basic convictions of our country's democratic ideal: that individuals be given full opportunity to discover and develop their talents and interests." Through a Great Books humanities program, AACC and St. John's believe that students from both institutions can become active and engaged citizens ready to grapple with difficult, age-old questions.
"The learning that takes place in a seminar, in which everyone's voice matters, mirrors the civic participation of citizens in a democratic society," says Emily Langston, associate dean for graduate programs at St. John's. "Students are able to reflect upon the ideals of equality and inclusion through the very process of their own experience in class."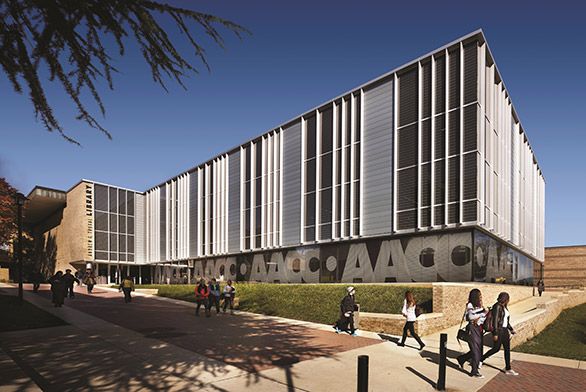 In year one, AACC English faculty will work with St. John's tutors and Graduate Institute (GI) students to incorporate a Great Books curriculum and discussion-based pedagogy into AACC composition classes (the program will expand to include history and philosophy courses in its second and third years). Student exchange programming begins in the second year: participating AACC students will visit St. John's to engage in student-led text-based discussions, tour campus, and get to know GI and undergraduate Johnnies. Finally, BLAST will provide AACC students with a tuition discount to "transfer" to St. John's and earn a four-year liberal arts degree. While only St. John's will offer a program-specific financial incentive, the skills learned from reading primary texts and engaging in seminar discussion will help students hoping to attend any liberal arts institution after graduating from Anne Arundel.
AACC—a renowned two-year college that serves more than 40,000 students—already has a strong humanities program. By adding Great Books and discussion-based learning, college leadership hopes to help students become active collaborators in their own educations. In doing so, AACC aligns with St. John's College's mission: to create a community of learners who aren't afraid to ask questions, challenge themselves, and engage with the world. "Part of our goal is to broaden opportunity for AACC students," notes Alicia Morse, dean of the AACC School of Liberal Arts. "St. John's has just been an amazing partner; they're so open to the value of this partnership for students in general. Students only have something to gain by exposing themselves to Great Books they've possibly not been exposed to in the past."
For St. John's, the benefits take many forms. On a practical level, it gives both undergrad and GI Johnnies the chance to work with tutors to design seminars that they will lead during AACC student visits to St. John's. GI students will have the opportunity to work in the classrooms at AACC, giving them the valuable career experience of teaching at the community college level. Finally, the partnership elevates the St. John's education by expanding the scope of intellectual dialogue. "Broadening our discussions to include more interaction with others outside of our own immediate communities reenergizes our thinking by exposing us to new perspectives," Langston explains. "It opens us to questions that these classic texts raise for readers coming from a variety of different life experiences."
The $100,000 funding from the NEH covers three years of collaborative education between AACC and St. John's, but one of the central tenets of the proposal is a shared, long-term commitment to the liberal arts. St. John's and Anne Arundel envision a lasting bond that will galvanize and strengthen both communities for years to come.
"I think the hope on both campuses is that, by studying these texts together in collaborative discussions and thinking about the American traditions of equality and inclusion, we will build real ties of friendship and shared intellectual activity between the two institutions," Langston says. "Ties that will begin in the classroom but will continue well beyond the end of formal coursework (and the end of the grant period)."
"I hope that [the grant] helps to refute the national dialogue that's out there that seems to minimize the value of a liberal arts education," Morse adds. "It's still alive—and it's still strong."
The Bridge to the Liberal Arts through Primary Source Texts project is funded by a grant from the National Endowment for the Humanities (NEH). NEH provided $100,000 to support this project, which is 100% of the cost of the project.