St. John's College Annapolis Receives More Than $35 Million from Hodson Trust for Student Scholarships
Trust's final disbursement brings college's total endowment to more than $244 million
Annapolis, Md. [October 18, 2023] — St. John's College Annapolis today announced that the school has received $35.1 million from the Hodson Trust, bringing the college's total endowment to $244.5 million and providing its students with an additional $1.8 million in financial scholarship support annually.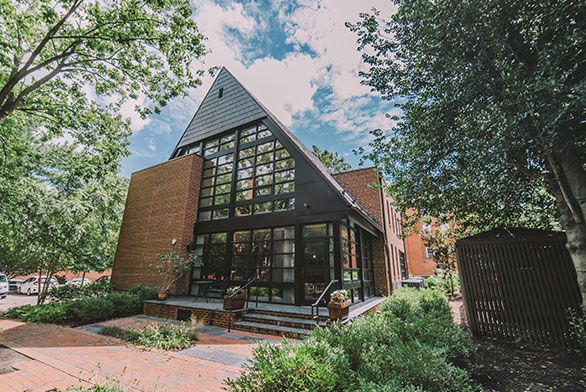 "The Hodson Trust has long made a difference for our Annapolis students and for our campus," says President Nora Demleitner. "Their generosity with this final gift will ensure we can provide needed scholarship support to students for generations to come."
Established in 1920 by Colonel Clarence Hodson, the founder of consumer finance company Beneficial Corporation, the Hodson Trust supports St. John's College along with three other Maryland colleges—Washington College, Hood College, and Johns Hopkins University. The trust dissolved in 2022. A possibly apocryphal story of the trust's founding states that the colonel was driving through Maryland when his car broke down, and a group of college students stopped to assist him. Not knowing which college the students were from, he established the trust to assist four institutions from across the state.
The Hodson Trust has bequeathed more than $100 million in gifts to St. John's since 1965, including this latest disbursement. Funds from the trust have provided 1,300 St. John's Annapolis undergraduates with academic scholarships and summer internships through the Hodson Trust Scholarship and the Hodson Trust Internship Program and financial assistance for teachers taking part in the Graduate Institute. The trust also has supported an array of new and renovated building projects on campus, including the Hodson Boathouse on College Creek, the Greenfield Library, Mellon Hall, McDowell Hall, Gilliam Hall, and the Hodson House.
ABOUT ST. JOHN'S COLLEGE
St. John's College is the most distinctive liberal arts college in the country due to our interdisciplinary program, in which 200 of the most revolutionary great books from across 3,000 years of human thought are explored in student-driven, discussion-based classes. By probing world-changing ideas in literature, philosophy, mathematics, science, music, history, and more, students leave St. John's with a foundation for success in such fields as law, government, research, STEM, media, and education. Located on two campuses in two historic state capitals—Annapolis, Maryland, and Santa Fe, New Mexico—St. John's is the third-oldest college in the United States and has been hailed as the "most forward-thinking, future-proof college in America" by Quartz and as a "high-achieving angel hovering over the landscape of American higher education" by the Los Angeles Times. Learn more at sjc.edu.
MEDIA CONTACT: Sara Luell, Director of Communications, sara.luell(at)sjc.edu