St. John's College Celebrates Grads from Pandemic Era to Present
Nearly 200 undergraduate and graduate students received their degrees in Annapolis and Santa Fe, joined by more than 70 members of the class of 2020 in Annapolis.
May 24, 2023 | By Kirstin Fawcett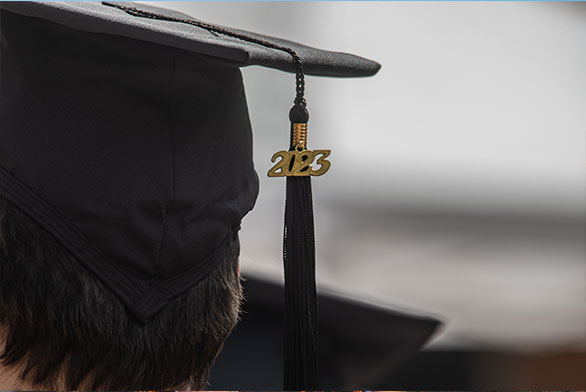 The sun was shining, the seats were packed, and the mood was jubilant in both Annapolis and Santa Fe as St. John's College celebrated Commencement 2023 in two ceremonies spanning state lines, class years, and academic programs.
Held on Sunday, May 14, and on Saturday, May 20, respectively, the festivities on the Annapolis campus's front lawn and Santa Fe's Weigle Placita featured remarks by presidents Nora Demleitner and Mark Roosevelt; academic and extracurricular awards presented by outgoing deans Joseph Macfarland (A87) and J. Walter Sterling (A93); and keynote speeches delivered by Annapolis tutor Nathan Dugan and Sarah Davis, the dean-elect in Santa Fe. At multiple points the faculty addressed not just this year's crop of graduating seniors and Graduate Institute students, but, in Annapolis, those from the class of 2020: more than half its undergraduate alums—along with a good portion of the 2020 Graduate Institute class—were present in the audience after the COVID-19 pandemic prevented on-campus ceremonies. (Santa Fe welcomed back the class of 2020 for in-person festivities at last year's event.)
Dugan, who served as the assistant dean in Annapolis from 2017 to 2022, was chosen by students as a speaker due to his steadfast leadership during the transition from in-person learning to remote and back again. He advised the class of 2023 to seek counsel from the class of 2020. "You have known them, and they have returned—perhaps as something like your own futures paying you an early visit," he said. "Their memories of the college and your prospects outside of it intersect at this moment."
The most important milestones experienced by the graduates in attendance were intellectual, noted Davis, fueled by the Program's reading list and the discussions it prompted—ideas, debates, and methods of inquiry that had survived centuries, wars, societal upheavals, and pandemics to be embraced by a new generation of Johnnies.
"Your time at St. John's has nurtured your inner world, and you have all felt the magic when that world begins to bloom, when it comes alive, when it starts to stir," said Davis, who was selected as Santa Fe's commencement speaker based on her mentorship of women students and support for student arts initiatives. "Ultimately it is in this stirring that deep questions form, that real conversations happen, that true friendships take root.
"It is," she concluded, "where a meaningful human life begins."
Couldn't make SJC Commencement 2023? Check out the photos below from both Santa Fe and Annapolis or watch the ceremonies on YouTube.
Santa Fe Commencement Ceremony Annapolis Commencement Ceremony