St. John's College Santa Fe Celebrates 54th Commencement
June 8, 2021 | By Eve Tolpa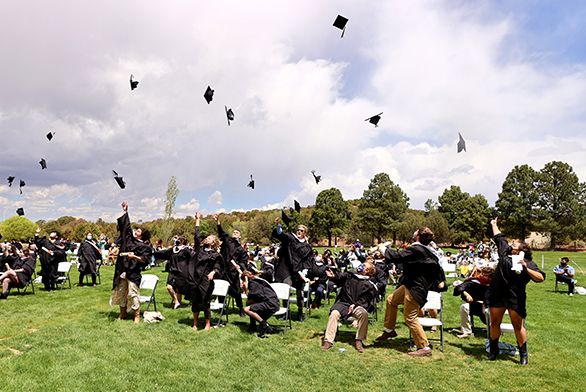 A spirit of warmth, community, and gratitude pervaded the 2021 commencement ceremonies at St. John's Santa Fe, the campus's 54th and the college's 325th. Held on Saturday, May 22, the hybrid event encompassed in-person and virtual celebrations, with the site of the festivities—the Student Activity Center's field—graced by a stage and a large screen.
The unpredictability of the past year was reflected in the weather. A beautiful, blue-skied high-desert day was punctuated by an epic hailstorm, with water running in rivulets across a ground blanketed by tiny white pellets, that made the order of events touch and go. (For example, a post-commencement serenade from a jazz trio and a picnic ended up getting postponed, but attendees were able to take cover to enjoy their individually prepared box lunches.)
Nearly 200 households logged in to view the livestream broadcast of the event, and more than 40 graduating students and their families attended the event in person—as President Mark Roosevelt put it, "on campus, sitting together, safely, like real humans. Like a real community. Again." Many of those assembled felt grateful to be attending a commencement event in any capacity, after enduring what Roosevelt called "the most challenging academic year of the modern era."
The on-campus graduates were recognized for their achievements in person, and those attending remotely were honored with a slide show. "You are entering an increasingly fractured, deeply divided world and country," Roosevelt told them all. "Too many raised voices, too much shouting, and far too little listening and attempts to understand."
He posited, however, that Johnnies in particular are uniquely well-equipped with the remedy: "Adaptable and open minds. A relentlessly questioning approach. An unwillingness to embrace the glib, easy answer. A desire to probe further. The training to see what others miss. The resilience to keep going. A dedication to listening that is rare—and a desire to find truth, as nuanced as it may be, rather than a need to be right and to win."
The complex process of making a life, he continued, "is about deciphering what these times demand of you—and then giving it. It is about seeing the world, and ourselves, as the complicated things that we are, and striving to overcome the darkness within us, striving to instead be the light."
Dean Walter Sterling followed Roosevelt with the announcement of awards and prizes for graduates and underclassmen. Among them were the Richard D. Weigle Prize, which honors the best senior essay, presented to Karl Evan von der Luft for "Hegel's Logic of Normative Conceptuality." Honorable mention went to Harry Augustine Choee for his essay "Genesis, Figure, and Synthesis in Book I of Apolloinus' Κωνικῶν," and both Choee and von der Luft were given Faculty Awards for Sustained Academic Excellence.
Attendees were then treated to a lively, humor-filled commencement address by Alfredo Corchado, Mexico and border bureau chief for the Dallas Morning News and author of two nonfiction books, Midnight in Mexico: A Reporter's Journey and Homelands: Four Friends, Two Countries, and the Fate of the Great Mexican-American Migration.
In his speech, Corchado charted his academic and professional career. The oldest child of nine in an immigrant family from Mexico, he recalled the circumstances that led him to quit high school—as well as the people that encouraged him to return and eventually earn a college degree at University of Texas El Paso.
One of those people was his mother, who, he says, "bribed" him with the promise of a Chevy Camaro. To get it, she asked of him three things: "Leave California, where all you see are fields and your role model is Cesar Chavez, who led the United Farmworkers Union, of which my parents were members of. You need to go to El Paso, where we had family, because I've seen Hispanics there and they wear suits and ties. Second: You must agree to go back to school, enroll in college, anywhere. Just get that education. Third: Promise you won't get married until you get that diploma."
He did what she requested, and "a week later," he said, "I'm driving that white Camaro without the T-Tops, wind blowing in my hair, alongside my brother Mario, listening to 'Hotel California,' headed for El Paso."
Corchado went on to offer graduating Johnnies his own triad of advice (though no car): "Surround yourself with people who believe in you, challenge you, push you up the hill;" "Find your own voice, your purpose;" and, finally, "Take that risk. Seize the opportunity and enjoy this moment with your family and loved ones."
As degrees were conferred—bachelor of arts by Sterling and masters of arts by Ned Walpin, Associate Dean for Graduate Programs—the graduates did exactly that. Congratulations to all of them!