St. John's College Welcomes New Deans in Santa Fe and Annapolis
[June 21, 2023] — St. John's College is welcoming new academic leadership at its campuses in Annapolis, Maryland, and Santa Fe, New Mexico. Sarah Davis will be dean in Santa Fe and Susan Paalman will be dean in Annapolis, each overseeing the college's distinctive program of instruction with its focus on Great Books and small, discussion-based classes on their respective campuses. Brendan Boyle will serve as associate dean for graduate programs on the Annapolis campus, overseeing the St. John's College Graduate Institute. Boyle's term began June 1; Davis and Paalman will take on their roles beginning July 1.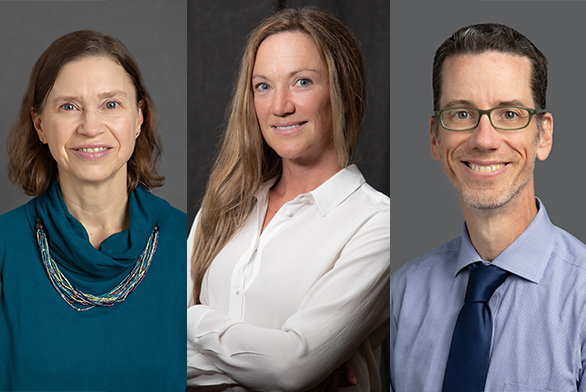 "My interests never fit cleanly into one discipline; I was always pulled between philosophy and anthropology. I had big questions about being human," says incoming Santa Fe Dean Sarah Davis. "At St. John's, we can pose those types of driving questions, and we encourage that in our students. I'm excited for the opportunity to work in new ways to support and enhance our unique program of study, and its dedication to joint inquiry, curiosity, and wonder."
Davis received her BA in philosophy and anthropology from Harvard University and her PhD in cultural anthropology from Emory University. She has published creative nonfiction and essays and coedited Being There: Learning to Live Cross Culturally. Before joining the St. John's College faculty in 2012, she worked for Time magazine in Paris and American Heritage magazine in New York. Davis recently appeared as a host on the college's web and podcast series, Continuing the Conversation.
"We're doing something that's different than almost every other college in the country, and I want to tend to and support that," says incoming Annapolis Dean Susan Paalman. "What I've come to love more and more about St. John's is the ability to dig underneath what we think about the world and the way things are. I spent a large part of my early career focused on scientific research. When I came to the college, where we teach four years of math and science, starting with foundational texts, I was able to think about the endeavor of science in a way I couldn't before. That has given me a deeper appreciation for what I was doing in my earlier life."
Paalman received her BA in biology and biochemistry from Rice University and her PhD in biophysics and biophysical chemistry from Johns Hopkins University School of Medicine. She has been teaching at St. John's since 1997, and previously served as assistant dean and chair of the Hodson Group on readings in biology. In her spare time, she is a volunteer and board member for a local Annapolis swim team.
"I think there is a deep hunger for liberal learning in this country," says Associate Dean Brendan Boyle, who joined the faculty in 2013 with degrees in classics from Princeton and the University of Chicago. "For decades, students met that hunger by coming to Annapolis to pursue the Master of Arts of Liberal Arts. But students now have the additional opportunity to meet that hunger online. The online program has allowed students from across the nation and the world to join in our community of learning."
At St. John's College, deans are nominated by the faculty to four- or five-year terms. Santa Fe President Mark Roosevelt and Annapolis President Nora Demleitner approved the nominations, and the Board of Visitors and Governors made the appointments earlier this year. Davis, Paalman, and Boyle succeed deans J. Walter Sterling, Joseph Macfarland, and Emily Langston, who each plan to return to the classroom after taking sabbaticals.
ABOUT ST. JOHN'S COLLEGE
St. John's College is one of the most distinctive colleges in the country due to its all-required Great Books curriculum. At St. John's, undergraduate and graduate students read more than 200 of the most important books across dozens of subjects and discuss those books with faculty in small, seminar-style classes. Located on two campuses in two historic state capitals—Annapolis, Maryland, and Santa Fe, New Mexico—St. John's is the third-oldest college in the United States and has been hailed as the "most contrarian college in America" by the New York Times, the "most rigorous college in America" by Forbes, and the "most forward-thinking, future-proof college in America" by Quartz. Learn more at sjc.edu.