'Welcome to the Program': St. John's College Hosts 2023 Convocation Ceremonies in Santa Fe and Annapolis
August 31, 2023 | By Kirstin Fawcett
Clutching paperback copies of Euclid's Elements and Confucius's The Analects, new students in Santa Fe and Annapolis participated in an annual college tradition—Convocation, a formal celebration welcoming them to the St. John's community—on Thursday, August 24.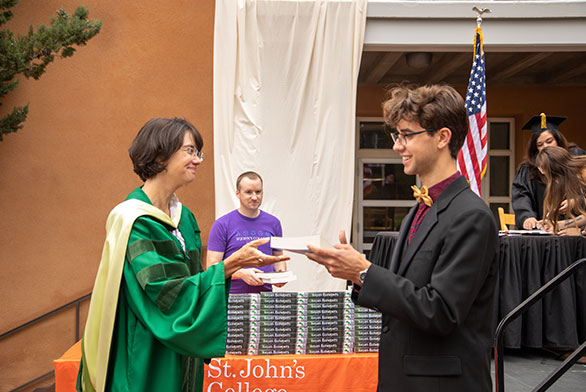 "You have joined a community of learners who wrestle with bold and radical ideas," said Santa Fe President Mark Roosevelt in a public ceremony on the school's Weigle Placita. "We do our work with honesty tempered by civility. Those values—honesty, a commitment to rigorous searching, civility, respect, and openness to the ideas of others—these are values that are largely lost in America today, and certainly in our public dialogue. They are also mostly missing in American higher education, but they have a home—and will always have a home—at St. John's College."
"And now," he concluded, "you have a home here as well."
Among those now calling St. John's Santa Fe home are 92 undergraduates hailing from 26 U.S. states and nine countries, including Kazakhstan, Uruguay, and Kenya. Thirteen percent are first-generation college students, 29 percent are Pell grant recipients, and 37 percent are students of color.
Also present were students from Santa Fe's Graduate Institute, which kicked off the academic year with 37 in-person and low-residency students enrolled in its Master of Arts in Liberal Arts and Eastern Classics programs. Originally from 15 U.S. states and three countries (Australia, China, and India), they come from professions including chemical engineering, teaching, marketing, and music. They also belong to St. John's most age-diverse cohort, with members ranging from 22 to 85 years old.
Across the country in Annapolis, President Nora Demleitner received new students following a procession of faculty members, academic leaders, and robe-clad first-year and Graduate Institute students from historic McDowell Hall to Mellon Hall's Francis Scott Key Auditorium. In a playful nod to their surroundings, she mentioned in her speech that Mellon's modernist architect, Richard Neutra, also designed the iconic glass-and-steel Kaufmann house in Palm Springs, California—a building that inspired set designers creating the airy pink Dream House in the 2023 Barbie movie.
"So, just think when you are at the seminar table, wrestling with gender dynamics in Pride and Prejudice, family relationships in Middlemarch, or American consumerism in de Tocqueville's Democracy in America—you are in the St. John's College-version of a Barbie Dream House," Demleitner quipped.
This year, the Annapolis St. John's seminar tables will seat 140 undergraduate freshmen from 33 U.S. states; the District of Columbia and Puerto Rico; and 14 countries, including South Korea, Turkey, Ethiopia, and Brazil. Twelve percent are first-generation college students, 17 percent have received Pell grants, and 27 percent are students of color. New faces in the Annapolis Graduate Institute, meanwhile, include 27 in-person and low-residency participants. Among the overall group of 167, Demleitner shared, were "a published author, a visionary for the next generation of libraries, a veteran, a documentary film maker, a piano teacher, a former electrician, students who have transferred to us from other colleges, and students for whom this will be your first time at an institution of higher education."
"You confirm the saying that 'no two Johnnies are alike,'" she observed. "Yet together we form a community of learners, of knowledge-seekers."
In addition to receiving welcome remarks from Presidents Roosevelt and Demleitner at Convocation, students in Santa Fe and Annapolis were welcomed by their respective deans and tutors, invited to sign the college register, and presented with gifts—Euclid for first year and MALA students, Confucius for those in Eastern Classics—before wrapping up the day's festivities with a campus-wide barbecue followed by their very first classes.
Check out some highlights below from Santa Fe and Annapolis and watch the whole ceremonies from Santa Fe here and Annapolis here.