St. John's Defeats Navy to Win 2017 Annapolis Cup
April 22, 2017 | By Tim Pratt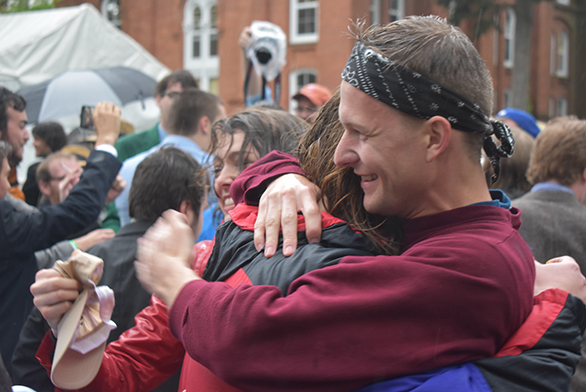 The St. John's College croquet team defeated the Naval Academy 3-2 at the 2017 Annapolis Cup.
The match, held April 22, was tied until late in the afternoon when Johnnies Mack McGowen and Sean Miller clinched the victory in front of an enthusiastic crowd in Annapolis.
"The feeling of winning a tie-breaker is insane," Miller says. "The fact that that game was so close, I wouldn't have wanted it any other way. This is the best feeling you could ever have, coming back from when you were ahead, then it gets taken away from you, and then you come back. It's fantastic."
As the rain fell, St. John's went ahead early with a 1-0 lead. The Midshipmen fought back and tied it before St. John's went up again 2-1. The Midshipmen then tied it again 2-2, leaving the Johnnies' chances in the hands of McGowen and Miller.
The final match went back and forth before McGowen delivered the winning shot. His teammates, classmates and alumni swarmed him and the celebration began.
"Last year I was on the last team as well, so I knew the pressure, but it was nice to have a teammate I could count on to keep them off-balance while I got situated to finally bring the last couple turns in," McGowen says.
With the victory, St. John's has won 28 of 35 matches against the Naval Academy in the history of the Annapolis Cup.