The St. John's Education in Action: Q&A with Dr. Stephen Forman (A70)
May 2, 2019 | By Kimberly Uslin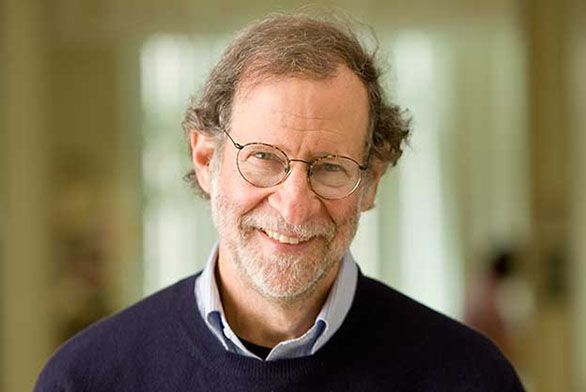 St. John's alumnus Stephen Forman (A70) is a member of the Board of Visitors and Governors and a recent inductee into the Association of American Physicians. He is a longtime sponsor, too, of St. John's internship stipend program and frequently hosts interns at City of Hope, where he serves as Chair of Hematology and Hematopoietic Cell Transplantation. He recently traveled to Germany to receive the 2019 DKMS Mechtild Harf Science Award in honor of his achievements in cancer immunology, hematology, stem cell transplantation, and CAR T cell therapy, as well as recently delivered the E. Donnall Thomas Lecture at the Transplantation & Cellular Therapy Meetings of the American Society for Blood and Marrow Transplantation and Center for International Blood and Marrow Transplant Research in Houston.
Here, he discusses how St. John's is the perfect education for students seeking to advance in the medical field.
Tell us a little about your career.
I'm a cancer physician by training, and I take care of people with a variety of malignancies, focused on blood and immune cell cancer. My research has been focused on helping develop immune-based therapies that can be used for the treatment of blood cancers and solid tumors. People talk about surgery and radiation and chemotherapy, but the work that we and many others have done has been to develop the immune system as a potential therapeutic for people with cancer.
Were you always interested in medicine?
No. I had thought about it, [but] I think when you go to St John's, you reevaluate what you might want to do as you confront newer and wider worlds. I think I came back to the conclusion that I wanted to use my St. John's education [as a foundation] to pursue medicine.
Was there anything in particular that you studied or read in the St. John's Program that helped you make that decision?
I would say the Program in total. There was no one particular book or class; it was just a recognition that's been validated over and over again that this type of education prepares one for both scientific pursuits [and] also for the thoughtful care of people with difficult diseases. The types of questions that we might have grappled with in college are in fact the real-life questions that everybody deals with in their lives, whether it's the meaning of life, the nature of the universe, the nature of God and religion, the meaning of love, our responsibilities to each other as humans or as a society or as a polity. These were all the questions that we confronted when we were in our teens and early 20s, but they're the exact same subjects that I think people deal with in life. And the college, I think, provided a framework for posing these kinds of questions, answering them, and bringing a certain integrity to that process.
What was your path post-medical school?
I trained in internal medicine at UCLA and then did fellowships in hematology and medical oncology because I wanted to be a cancer doctor. During that time, the development of stem cell transplantation was ongoing, and I did a rotation at City of Hope when it was just starting that program. I was offered a position here to help develop that stem cell transplant program, which has grown to be one of the largest ones in the world. The Nobel Prize was given for stem cell transplantation [in 1990], so that was a nice validation that the work we were doing was important and meaningful and had strong scientific underpinnings. I edited the first textbook—and still the only textbook—in the field with E. Donnall Thomas, who is the person who won the prize for developing transplant as a therapy for leukemia and other disease. It was an honor for me to work with him.
Then, about 18 years ago, I began working on trying to develop immune-based therapies that would allow a person's own immune system to help do what we want it to do, which is not just to clear viruses and colds, but to eliminate cancer cells. That has taken off in a major way, and last year, the Nobel Prize was given again in medicine for people who had done work in immunotherapy, [thus] validating it as a field. That's what I've been doing with increasing energy and intensity over the last 10 years.
How are these therapies developed?
Our lab and some other labs around the United States engineered the immune system to recognize cancer in a way that it hasn't before by putting new genes in cells, growing them up, and then putting them back into the patient, hoping that they will find their way to the cancer, recognize it, and eliminate it.
And you believe St. John's helped you with this?
I'm not just saying this, I believe it: I have not the slightest doubt every day of the year that this work in the laboratory and at the bedside with a patient can be traced to those four years in Annapolis.
In what way?
One of the unique things about the Program—and it's what people criticize, also—is its fixed curriculum. To me, there were parts of the curriculum that I was more comfortable with and other parts that were just terribly difficult. The college, leaving aside the detail of what you might learn, helps you to confront what is difficult without running away from it. So whether it's physics or music or literature or math, the college is there to help you understand how to think and to not be afraid. I often say that I think St John's students are courageous because they confront what is challenging and do not run away from it. There's also a certain joy at the college in just learning something new or thinking of something new. And I think that translates pretty easily into a life in science or life at the bedside—or, in my case, both.
I think [St. John's] prepared me to take care of other people. That respect for other human beings and the ability to listen carefully are very amazing and important skills that we learned at the college. I tend to be of the view that everybody's life is a great book. You just have to sit down and listen and learn, and you will.