St. John's Introduces Job Search Platform Handshake
December 25, 2018 | By Kimberly Uslin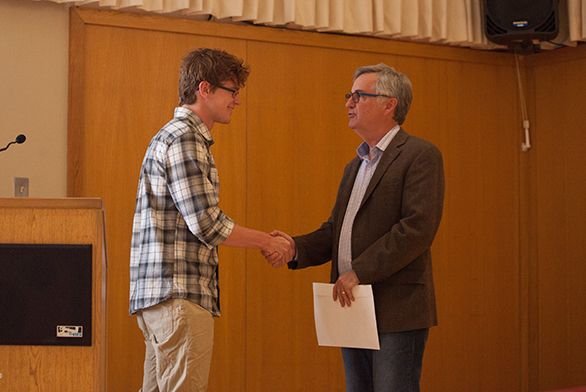 As part of an ongoing effort on both campuses to improve career outcomes for students, St. John's recently implemented a job search platform called Handshake. The platform, which was invented by three job-seeking students in 2014 and now serves more than 500 colleges and universities nationwide, connects employers with students and recent alumni through a carefully vetted, secure network.
"It's a job and internship search platform that students and alumni can use to explore employment opportunities," explains Jaime Dunn, director of Career Services on the Annapolis campus. "It's curated and more tailored to college students [than other sites]. It's mobile-friendly and looks similar to Facebook, so it's intuitive for our students."
Employers that want to post on Handshake, she says, can either make positions available to the entire college network or pinpoint specific qualities. Theoretically, this means that employers could open jobs only to Johnnie students and alumni, to Maryland or New Mexico students, to students with a liberal arts background, or whatever specifications they prefer.
The network also allows for an advanced level of quality control. St. John's must approve any employers that wish to add the college to their network and is able to check their 'trust score' in the Handshake system, minimizing the scams or misleading postings that can be found on other sites.
"If a student or alumnus has access to their 'sjc.edu' email, they'll be automatically approved" to join Handshake, explains Jay Woodward, Telos program coordinator and alumni engagement officer of the Santa Fe campus's Office of Personal and Professional Development (PPD). "If they've lost access, all they need to do is create a Handshake account and ask for approval. We'll approve them."
He says, however, that the network is typically targeted toward current students and recent graduates. All current students automatically have a profile—it is not an opt-in system—but they can customize it with as much or as little information as they are comfortable sharing.
Both Dunn and Woodward note that the new platform is head-and-shoulders above their previous resource.
"We have about 45 new jobs posted every day, and there are just going to be more and more," says Woodward. "They're approving more employers every day."
Dunn plans to do more advertising of the service when students return to campus in January and is using the interim to explore the platform's many features, such as interview scheduling.
"We're really going to get a good reach," she says. "I think it's going to be a great addition to services on both campuses."