St. John's to Launch Original Web and Podcast Series
December 7, 2022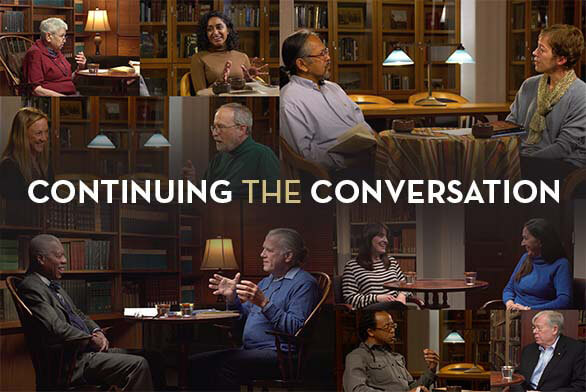 In January, the college will launch an original web and podcast series called Continuing the Conversation, which will feature faculty members engaged in one-on-one conversations about the ideas that animate them, often emanating from the Great Books. Available as both a web-based video series and a multi-platform podcast series, a total of 20 episodes will be released in monthly batches beginning in January and continuing through June 2023.
The series was inspired by alumni, who often ask the college for avenues of intellectual reengagement with St. John's but for whom a full-time return to the Program isn't possible or practical. "This series is our modest way of saying thank you to our alumni and friends, who have stepped up to support the college in myriad ways over the years—most recently on the college's Freeing Minds capital campaign," said Santa Fe President Mark Roosevelt.
The college hopes that the series will also help prospective students and their families experience an important part of the Program by witnessing college faculty engaged in deep conversation, open to all who want that good in their lives, while introducing them to the enduring centrality of the great books among the St John's community of learners.
"This is what we do, how we look and sound, who we are," says faculty host Louis Petrich, a tutor on the Annapolis campus. "This is us asking questions of each other about the things that matter, accompanied by the wisest authors and thinkers who share this timeless purpose."
Originally conceived of by the Communications Office, four faculty members volunteered to serve in the essential role of co-creators and potential hosts, meeting regularly with the Communications Office to develop the vision and parameters for the series.
"One refrain that I've heard again and again at the college is a desire to capture the magic of seminar on film," says Vice President of Communications and Creative Strategy Carol Carpenter. "But to record and edit a conversation between 16-20 people who are sitting in a circular format discussing a very specific book, and to then edit that conversation in a way that would unfold as both natural and accessible to those not in the room, likely not knowledgeable of the book, week after week—this felt too challenging to do well."
Instead, the group decided to embrace a minimalist approach in which each episode would feature one faculty host interviewing a faculty guest of their choosing, on a topic of the guest's choice. By having two hosts from each campus, it became feasible to produce a significant number of episodes, as the work would be spread out amongst the college's always busy faculty members.
In Annapolis, the hosts and co-creators are Louis Petrich and Zena Hitz; in Santa Fe, they are Sarah Davis and Krishnan Venkatesh.
"One of our many ideas was to start with life, to ask our colleagues about formative experiences that they've had outside the classroom and to explore how these experiences connect to the books, questions and ideas that drive St. John's program," says Davis, whose episodes include a deep dive into the relationships between hunger and home as well as an exploration of the development of 'ideal human communities.' "I was especially interested in capturing moments where the books and our lives meet in a personal way," she adds.
In addition to exploring the great books of the Western tradition, which students in the undergraduate and Master of Liberal Arts graduate programs on both campuses study, the series also delves into great books and authors from the East—offering insights into the Eastern Classics program for alumni who've never had access to it before. "These books are concerned with many of the same questions as the books of the West: Why be good? Is there such a thing as a good war? What can we know? What is virtue? What is God? Is there a soul? - but they give us different angles of approach to the questions, and excitingly different ways to think about them," says tutor and host Venkatesh.
Stylistically, the series harkens back to talk shows that were common in the 1960s, when a single host would interview a guest on a serious topic for a substantial amount of time on a spare and simple set. The group also looked to series like Inside the Actors Studio and Charlie Rose for tonal and stylistic inspiration.
Shot with a three-camera set up, the locations of the series will be familiar to Johnnies: the Meem Library and the Greenfield Library as well as the Barr-Buchanan Center. The series will be available on multiple podcast platforms including Spotify and Apple.
"The world right now is awash in recorded conversations," says Annapolis tutor and host Zena Hitz. "Ours is unique in that it is meant to be an open door, an invitation to you the listener to join us in conversation, face-to-face and in person."
Although the primary inspiration and audience for the series are alumni and prospective families, the college sees Continuing the Conversation as accessible to, and important for, the broader world as well. Carpenter urges the St. John's community to share it widely, which will augment the series' coming public relations and advertising campaigns that are intended to increase its virality.
"The more that St. John's engages with the world, the more the world will engage with St. John's," says Annapolis President Nora Demleitner. "We hope our community will watch and share the series widely."