WASHINGTON D.C.—As a summer intern in the office of Senator Barbara Mikulski, Gabrielle Feliciani (A17) had a front row seat to the making of national legislation.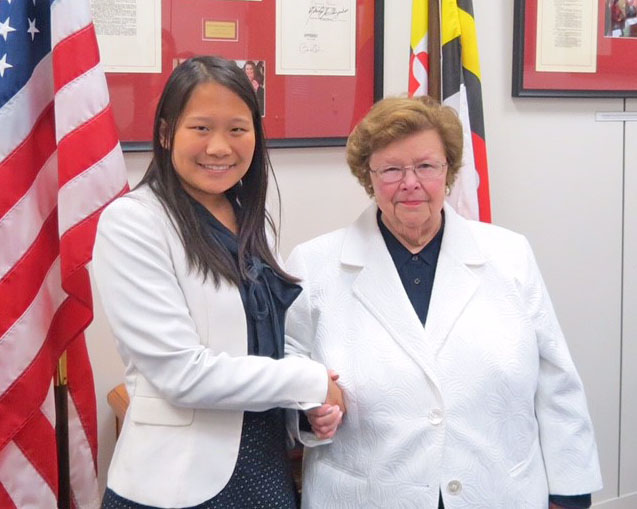 "It is easy to forget the real-world effects of much of the legislation that passes through Congress due to the intensely rhetorical and connotative language that lawmakers use," she said. By reading the language and tracing the logic, however, she able to understand that bills are often different in name and practice.
"I was required to use these kinds of analytic skills every day, and the discussions I had at St. John's, especially in the Language Tutorial, were very helpful to me."
Funded by the Hodson Trust, Feliciani's grant allowed her the opportunity to work on Capitol Hill with staffers and other interns from a variety of backgrounds.
"Everybody had a different approach to the work we did and it was important to learn how to integrate my own strategies with theirs. I was required to work well as a team with my peers and my bosses."
She received support from the staff and worked with a team of mentors who offered career advice and job help. She also enjoyed the camaraderie with the other interns.
"It was apparent to me this summer that practical experience is the most important thing when looking for a job. It is also so important to make connections, as most of all Hill staffers had an internship once before and were able to use the connections they made to find their first job," she said.
The internship helped Feliciani refine what she will look for in her first job.
"This internship reinforced my goals of working in policy, and focused my interests toward domestic policy. I have a long-term goal to become a fellow at an organization after graduating and later earn a master's degree in public policy."
Feliciani would recommend interning on Capitol Hill to future Hodson applicants.
"I would absolutely recommend a Congressional internship to any student interested in a political career. Whether or not a student would want to work directly for the government, a Hill job is one of the most common stepping stones for anyone wanting to work in politics."
The Hodson Internship Program offers students the opportunity to pursue summer internships in virtually any career field, by funding otherwise unpaid positions through a generous grant from the Hodson Trust. Visit our Hodson Trust Internship Program page for more information. Quotes are excerpted from the student's internship report and used with permission.
—Brady Lee (AGI14)