November 26, 2019 | By Eve Tolpa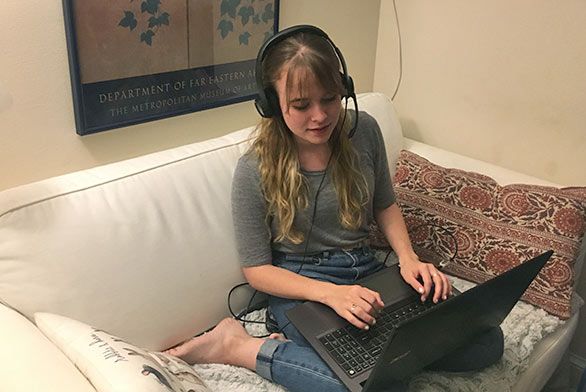 When Emma Stewart (A20) embarked on the seven-week online Harvard University course "Advanced Poetry Writing: The Art of the Line," she had an inkling that she might want to pursue the subject in graduate school and earn an MFA.
By the time the class finished, her inclination had only strengthened.
"I've been writing poetry all my life," says Stewart, who spent her summer Pathways Fellowship logging into a twice-weekly conference with her professor to discuss the work she'd completed, which included composing 10 original poems, committing a famous poem to memory, and compiling a highly personal anthology of her own poetry favorites.
Pathways Fellowships are college-funded academic opportunities that enable students to explore a wide range of disciplines outside of the St. John's Program. For Stewart, the fellowship meant focusing exclusively on poetry—helping her expand her writing portfolio and confirm her plans to apply for an MFA after college.
The experience enriched her in ways she expected—and in some she didn't. "In terms of technical proficiency, I grew tremendously," she says. "My philosophy about the craft of poetry definitely deepened. But I was surprised to find the class kindling in me an appreciation for poetry I wouldn't usually like—and humbling me in the process."
Throughout, St. John's was never far from her mind. When faced with recurring deadlines, she says, "my mind turned almost instinctively to my favorite Program books. I wrote a poem about Don Quixote that referenced As You Like It, one about croquet day, and a poem to Eos, which was riddled with references to the Iliad and the Odyssey. At St. John's, we engage with the texts so intimately that their effects can reach deep into our personal lives."
Stewart views the pursuit of poetry as a way to build on the strong liberal arts foundation that she's been establishing. "So many great poets have been classicists and translators, and right now I hope to go down a similar path," she says.