Supporting our Newest Johnnies
September 6, 2022 | By Kerri Braly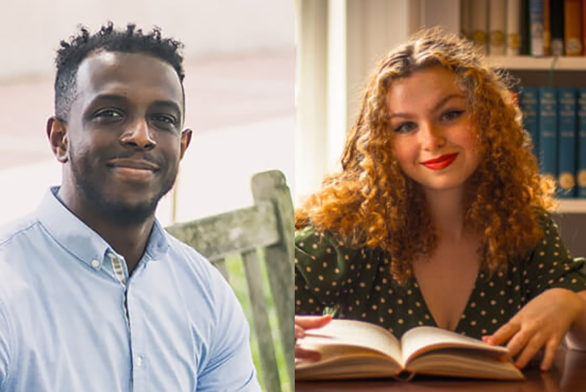 When Chloe Niedzielski (A25) arrived on the Annapolis campus of St. John's College in August 2021, they were, like many of their peers, concerned about fitting in, about making friends, and about making mistakes. They felt anxious, and they struggled—with their fears, with the weight of their college decision, and with frustratingly unfamiliar laundry machines.
"I had so many questions," says Niedzielski. "But I was also given the opportunity to ask them. I wasn't just handed a folder and a room key and told 'good luck figuring it out.'"
Niedzielski was among 54 members of the Class of 2025 whose first year on the Annapolis campus began with the Pritzker Promise Bridge Program, an extended orientation experience for qualified incoming students who would like additional preparation prior to the start of the academic year.
The welcome they received is different from the one that Kidus Kebede (A20) remembers. "Transitioning into the college is tough," says Kebede, St. John's first-year student engagement coordinator, who helps oversee the bridge program in Annapolis. "This is true of any institution, but historically St. John's has not had a focus on easing that transition, particularly for students who are already at a disadvantage."
Six years ago, Kebede was a first-year student with challenges of his own. He came to St. John's as an international student and found an education that immediately captivated him—and an institution that took longer to love.
"After the first few weeks, you were mostly left to fend for yourself," he recalls. "I was midway through my sophomore year before I finally gained my footing. Looking back now, I feel like I wasn't necessarily set up for success."
But that was then. Today, he says, the college is taking a more proactive approach to student support, spurred in part by constructive feedback from alumni.
"Instead of waiting for students to walk into offices and say, 'I am struggling,' we are creating communication bridges between students, staff, and faculty from day one," Kebede explains. "Students feel more connected to the school and to the administration and not left to fend for themselves."
Kebede describes the Pritzker Promise Bridge Program as a core component of a collegewide effort to help students succeed at St. John's. Funded through a Freeing Minds campaign gift from the Jay Pritzker Foundation, the bridge program is meant to address the distinctive needs of new students whose backgrounds and circumstances could potentially serve as obstacles to academic success. On both campuses, eligible students include those who qualify for federal Pell Grant assistance, students who are the first in their families to attend college, and international students.
"There are some social drawbacks and risk factors that come with being a part of these demographics," Kebede explains. He says the bridge program helps to mitigate those factors by giving participants more time to adjust to campus, access to a social safety net, and an extensive overview of available resources.
What it does not do, Kebede assures, is downplay the realities of a tough course load or the demands of the St. John's classroom. Participants hear about long nights and long papers from peer mentors who offer a candid—and uncompromising—view of Johnnie life.
"Peer mentors are specifically instructed to represent the college as honestly as they can," Kebede says. "And that's important, because while new students might think they are going to leave every seminar with a sort of glow, that isn't reality. There are frustrating conversations, and students need to hear about them."
Luke Widenhouse (A25) participated in the 2021 bridge program as an incoming freshman and says the peer mentors offered a "no holds barred perspective" that prepared him for the classroom more than any other discussion he had. "It's one thing to hear from a member of the administration, but it's another thing to hear about the version of St. John's that might be different in real life than it is on paper, to learn what actually does or doesn't work in the classroom."
In 2021, eight students served as peer mentors in Annapolis; this year the campus has ten. Both Niedzielski and Widenhouse, now sophomores, are among them.
"It wasn't long ago that I was filled with questions, and now I have some answers to share with the next generation of Johnnies," says Niedzielski. "I can help them understand that you won't reach your destination all at once, but you will get closer and closer until the other side isn't overwhelming anymore."
Widenhouse adds, "I am passionate about this school and want to do my part in giving back to it."
Their enthusiasm is representative of what Kebede sees as a broader collegewide culture shift, one that calls for more collective accountability in helping all members of the St. John's community feel connected to the college.
"Every student who signs their name in the book during Convocation deserves to be set up for success, because that is the core of our message, that a liberal arts education should be available to anyone who seeks it."
"Being a part of that is fulfilling."