Tutors Talk Books: Christopher Nelson (SF70)
November 26, 2018 | By Kimberly Uslin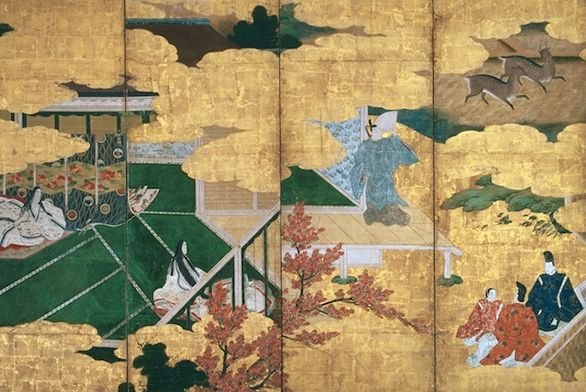 "Tutors Talk Books" is a series of interviews with St. John's College tutors. In this interview, we caught up with Christopher Nelson (SF70), former president of St. John's Annapolis campus and current freshman seminar tutor. He is currently co-leading a study group on The Tale of Genji by Murasaki Shikibu, written in the 11th century and often considered the world's oldest novel.
Why did you choose to focus on The Tale of Genji?
For the last nine or 10 years, as a supplement to teaching or when I couldn't actually have a regular class, I've co-led a study group with [tutor] Debbie Axelrod. Generally, I choose texts that are too big for me to get into during the course of a normal class. It's an opportunity to do some major explorations with students.
I missed last year because I was on sabbatical, so the class picked this book. I've started [it] two or three times, and it just got to be too big to concentrate on. It's 1,200 pages or so. This was something I don't think I would have done on my own, which is a good reason for doing it.
Who is in the study group? How is it structured?
We invite anybody in the community, so from time to time there will be members of the staff, tutors, retired tutors, spouses, and students from both the undergraduate [program] and the Graduate Institute. The core group is eight or nine retired tutors, their spouses, and then always two or three members of the Graduate Institute and a handful of undergraduate students that drop off a bit during the course of the year—they can't do everything they want to do!
It will vary from 10-16 participants each week. We have 22 seminars on the book, and they go for about an hour and 15 minutes to an hour and 20 minutes over the lunch hour. That means somewhere between 50 and 60 pages a week, which is about all one can reasonably manage with all the other demands on our time.
What is The Tale of Genji about?
It's an interesting book. It's a little hard to get into because it's generally described as one of the great classics of the world, but it's episodic. So it's hard to see what the overall story is. It's clearly dominated by the life of Genji himself, who is the son of the emperor by one of the emperor's 'intimates,' but not a high-ranking enough woman that Genji himself would succeed the office. But he will marry well, have affairs with other consorts of higher standard, and his children will play the leading political roles of the country.
Genji himself is extraordinarily beautiful. There's no one like him anywhere. He does everything perfectly. He's physically attractive to all men and women, but he can dance better than anybody can and can write beautiful poems. He can do gorgeous works of art. It's easy to see why people are attracted to him and why he can get away with things that other people couldn't. What's more interesting is that he won't simply leave anyone behind.
Of course, there are many, many other characters and it's hard to keep track of them all, particularly because the author rarely uses names. A wide range of people surround Genji and the women that he's attracted to, so we get court life, as well as life in the country and life outside the world controlled by the powers of the court when he goes on a voluntary exile.
What we're seeing is something that is very different for a novel, because it's disjointed and episodic, but also a glimpse of court life that is alien to us and a glimpse of a culture that's very interesting. What we hear from some of our Chinese students is that the English translation falls far short of the Chinese translation, but the pictures painted in the text are quite beautiful. Almost all communications [in the book] are accompanied by or consist of poetry.
We haven't gotten to it yet, but Genji dies two-thirds of the way through the book, and the love of his life dies before he does. The central characters all change, and there's nothing at the end of the book that summarizes the whole. It's more a series of observations, but it's a Japanese voice putting a stake in the ground to distinguish itself from China and to try to show a Japanese way of living that stands on its own. Everything of moment among the higher classes in Japan [was] borrowed from China. The educated classes [were] educated in Chinese literature, poetry, graphic art, calligraphy, dance, costume, makeup… You get the sense [Japan] is struggling to become an important culture on its own, not simply an imitation of an older culture.
I haven't read the whole book myself yet. I read it just enough to be able to find ways of dividing up the for purposes of conversation, but I have a long way to go. So you're catching me at a moment when I'm speaking only of what I'm seeing so far.
The fact that the novel is written by a woman, Murasaki Shikibu, is surprising. How are women portrayed in the text?
The author is a woman who obviously served at court, somewhere in the middle [rankings]. It may not be an accident that the love of Genji's life is a Murasaki herself.
The novel talks about the importance of women as forms of art. There's a revealing chapter in the book, "The Broom Tree," where you hear many young men talking about a wide range of attractive traits. And as you might expect, no woman could live up to them all. Genji, after having had a few affairs, decides that he needs to make such a woman. So he finds a 10-year-old girl who is quite beautiful and innocent and accomplished for her age, and he takes her on first as kind of father figure and later a lover.
The women are not presented simply as objects, because they have a real influence in the empire. Sometimes through men, their husbands, but also on their own. It's not permitted for a woman to talk about political matters, so she [the author] comments on and acknowledges the limitations, but you have the sense that she knows all of it. She's extremely bright and her writing is gorgeous, but she knows that there are some things that are not right to reveal.
What have the study group's discussions of the text focused on?
At the beginning, our conversations were about the morality of this kind of world. I think we were imposing a more Western view on the book. But on the other hand, we have an author who's an authority of voice. She tells us when she doesn't approve either. As the seminar has progressed and we found our way into the story and into the culture, we're mostly trying to understand what's going on and what kind of person Genji really is. He never leaves anyone behind, so if he's had a relationship with a woman, he takes care of her for the rest of her life and even built pavilions so he could be sure that [the women] were getting proper care and attention, even if he isn't attending to them personally in any other way than an occasional visit.
We talk about things that are hidden versus the things that are seen, and how we try to see through the veils and shadows to what's really going on. We're building an understanding of the whole and starting to be able to see what's going on over time. We're getting a picture of Japan at court and away from court.
What are some of the book's prevailing themes?
We have the sense that the contrast between the evanescence and transience of life is present in everything and that the beauty of the natural world reflects on the beauty of relationships in the human world in ways that I don't think I've seen in other literature.
The cherry tree is the perfect living model of such a thing. The blossoms are beautiful for seven or eight days, and then it loses its blossoms. It passes away so quickly.
What are some other texts you've studied in the past with the group? Do you have plans for future texts?
We read August Wilson's Century Cycle, then we spent a whole year with James Joyce's Ulysses. We did War and Peace, then Anna Karenina and two years on all the lives of Plutarch, and we did a whole year on Middlemarch—that's a gorgeous book.
I'm not sure what next year will be—something where we went through it much too fast [in seminar] or something off the Program like we did this year. I wanted to do some of the books that we are now doing in my freshman seminar, because I felt it would be much better to do them at greater length in a study group. But at the same time, some of the hunger I had for them has been satisfied. I'm not sure what we'll do.
Why would you encourage students to get involved in the study groups?
I think there's a great opportunity for students to see tutors participating as regular students in the classroom. Faculty don't pull back, and they throw themselves into the text just like we hope our students will do.