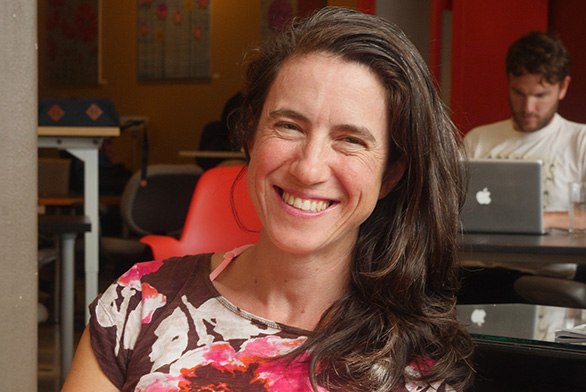 Liz Trice (SF98) says her job involves being a good host.
It starts with making sure the coffee is fresh, the bathrooms are clean and the chairs comfortable. Her biggest skill, she says, is her friendliness.
Trice owns and operates PelotonLabs in Portland, Maine, a co-working office space for independent professionals and entrepreneurs. She creates connections among busy people, as well as a comfortable and effective work environment for people whose careers and lifestyles demand independence and flexibility.
It's complicated work, highly specialized and intuitive, and involves more than making good coffee and keeping the office clean and comfortable. Trice uses her human relations expertise, strategic planning experience and problem-solving skills—all rooted in interaction, innovation and collaboration—to create a self-sustaining community of independent, progressive workers. Her goal is to bring people together to share what they know, help each other grow and "weave a social fabric" that extends beyond the workplace.
Her work at PelotonLabs is not unlike the work she does at the nearby community garden that she helps maintain in her neighborhood: she nurtures, nourishes, and encourages.
"At Peloton, mostly I just chat with people in the kitchen, introduce people to each other, and connect people with overlapping interests," Trice says. "My role is community organizer and group facilitator."
Co-working is a relatively new concept, where entrepreneurs, freelancers, consultants and others who work remotely share work space. There are about a half-million co-workers and more than 7,000 co-working spaces globally, and those numbers are growing. Employment trends suggest that by 2020, up to 40 percent of the U.S. workforce will consist of freelancers, temporary employees, independent contractors and solo entrepreneurs.
At PelotonLabs, members own companies, edit books, and make movies. They are accountants and consultants, marketers and IT experts. Many are telecommuters who want a structured office environment, and about half are self-employed.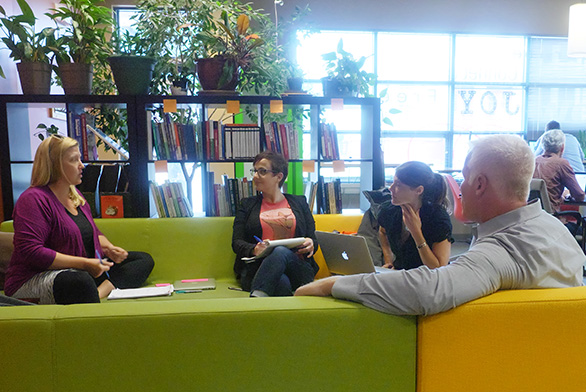 They're mostly a young group, mobile and tech-savvy. The average age is 39, and the typical member spends 23 hours in the office each week.
Trice opened PelotonLabs six years ago with a business partner, and has owned the business outright for three years. The name is a cycling term. In races, bicyclists from different teams work together in groups, or pelotons, to move faster. Trice builds community among "big-idea thinkers" so they can progress faster together than alone.
"We want a place where people who are on their own can work with others, to get the benefits of being in an organization while still being independent," she says.
PelotonLabs currently has about 80 members, who pay between $100 and $300 a month. The price reflects different levels of membership and service. Trice calls PelotonLabs a clubhouse, where the value of membership involves more than having a comfortable place to work. She arranges professional development gatherings, weekly lunches, happy hours and "coaching hours," where members share knowledge of their specialty with others.
In other ways, it's a little like kindergarten. There are daily snack times, where everyone is encouraged to take a break and come together and share words and food. There are rooms for napping, and exercise rings hanging from the ceiling, when people need to stretch their bodies.
PelotonLabs consists of two floors in a modern office building, which opens onto Portland's busiest downtown thoroughfare. The bottom floor is mostly open, with work stations and tables spread across a colorful and airy room. There are conference rooms for meetings and quiet spaces for private phone calls.
It's a bustling place, with multiple conversations happening at once. Some people sit at workstations that face away from the center of the room. Others share tables and sit across from each other on sofas. The space is buzzing with white noise, so recognizable voices are masked.
The second floor offers more privacy and quiet spaces—and private rooms for naps. It's a comfortable space, because it has to be.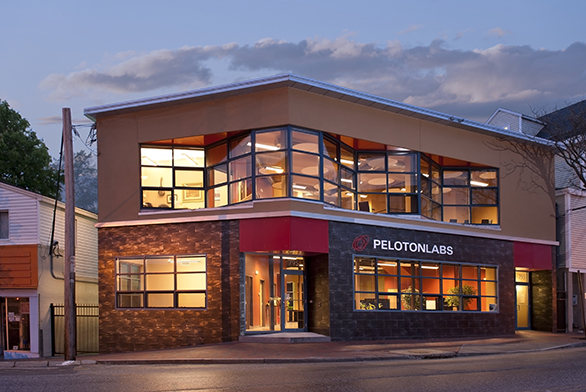 "I'm competing with people's homes," Trice says.
Trice doesn't have an office. She flows throughout the building, and likes conducting meetings on a sofa near the front door, where she can see across the room, into the kitchen and also keep an eye on the conference room. She works with her feet propped on a coffee table, her laptop within reach.
Betsy Smith, an independent consultant, works at Peloton one or two days a week, mostly when her kids are home. She likes to spread out her work and encamp for eight or 10 hours with little interruption. But lately, Smith has sought interruptions. She likes to mingle among her co-workers "because I have found it's a great place to be talking about what we are all doing," she says. "It's exciting to be having those conversations among other people having similar conversations. We all do interesting things, and we can all help each other."
She has hired subcontractors through those conversations, and directed co-workers to leads and ideas for new work.
Another private consultant, Cristos Lianides-Chin, has been involved with PelotonLabs since fall 2015 when he moved to Maine. He was drawn "because of the community. I really like the mix of people," he says. "I needed a desk and office space short term, but I was looking for a community and a long-term relationship." He's become an integral member, serving as technologist-in-residence.
Trice sees her work at PelotonLabs as a logical trajectory of her life and career.
At age 6, she created a filing system with an index card for each classmate. That was the first evidence of what she calls her "thoughtful social inclinations." Those continued at St. John's, where the college's communal approach to education suited her mind-set. She did her graduate work at the Muskie School of Public Service at the University of Southern Maine in Portland, where she wrote her master's thesis about the residential needs of single people.
Now in business, she serves the needs of remote workers, the self-employed, and emerging entrepreneurs. The thread, she says, is connecting people, providing companionship, and sharing resources to improve their lives.