Whimsical Worlds: Tutor Brings Paper to Life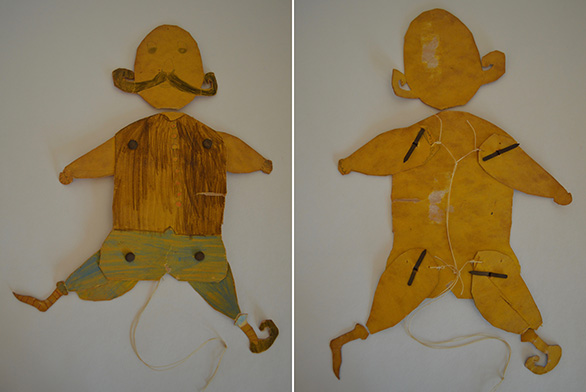 Annapolis tutor Sarah Benson made what she describes as her "first paper automaton" at age 8.
While attending the Strawberry Hill day camp on Nittany Mountain near Centre Hall, Pennsylvania, she created a figure on paper—a strongman with stripy socks—meant to come to life when cut out and played with. Known as Hampelmann in German-speaking countries, or jumping-jack, at the tug of a string his arms and legs begin to move.
"He was an automaton to me, though he didn't move by himself, because he nevertheless seemed to," says Benson. "The delight comes from our participating in the illusion."
Benson's creative and whimsical bent only grew with time, taking many different forms.
While in her teens, Benson wished to become a clockmaker. Her parents gave her a kit called "Make Your Own Working Paper Clock," and she again gave life to paper, which now ticked and tocked.
When Benson later began to explore philosophy she discovered that "the two paths seemed nearly interchangeable at the time. Either seemed an occasion to explore questions of what makes a thing alive, what constitutes the mind."
She found the historical narrative of paper worlds just as enchanting as her own experience with them.
As an art historian, Benson has had the opportunity to gaze back through time, making whole cities—now only knowable through the trails of artifacts and documents they left behind—folded into the three-dimensional world of her mind, breathe once more.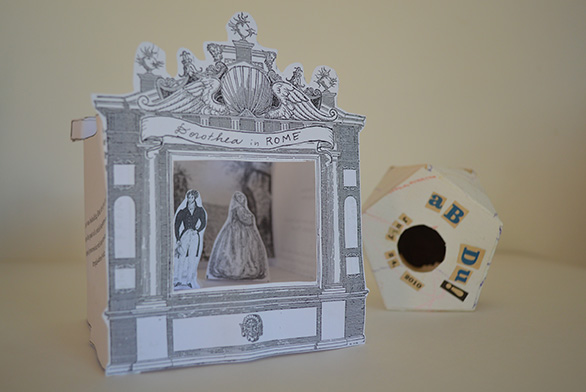 Pop-up paper theaters became common entertainments in the 1700s, a century before George Eliot wrote her novel Middlemarch. There is a scene in the book in which Dorothea, the main character, travels to Rome with her husband.
Benson explains that before Dorothea laid foot in Rome, she had probably known it as a paper city—the streets, piazzas, monuments, and ruins all laid out in printed views, which onlookers who had never set foot in the city itself could explore, both with their eyes as well as their imaginations.
"A dilemma of the tourist who knew Rome so well already was to find the topographic city as interesting as the paper one," says Benson, who created her own paper theater with Dorothea in the center of the stage, her second husband-to-be off to the side, his gaze askew.
Benson's theater allows readers to put Dorothea back into paper Rome and imagine how the character is affected by sites she never visits in the novel.
Benson's interest extends into old optical devices made to enhance the experience of paper worlds by exaggerating them to the eye. One such device is the zograscope, which belongs to the lineage of optical entertainments that seek to immerse the viewer in the scene, along with cinema, 3-D photography, and virtual reality.
Printed views with exaggerated perspectives called vues d'optiques were sold to be seen through the zograscope.
"I knew about zograscopes from my research into printed views of Rome," says Benson. "But I'd never seen one in person before noticing one among the collections of historical scientific instruments in Mellon Hall. I don't think anyone knew what it was. Thanks to the Paca House Museum in Annapolis, which lent us two of their vues d'optiques, I got to try it out with the students. It was a lot of fun."