Winemaker Larry Turley (SF69) Recognized with Award of Merit
August 15, 2019 | By Anne Kniggendorf (SF97)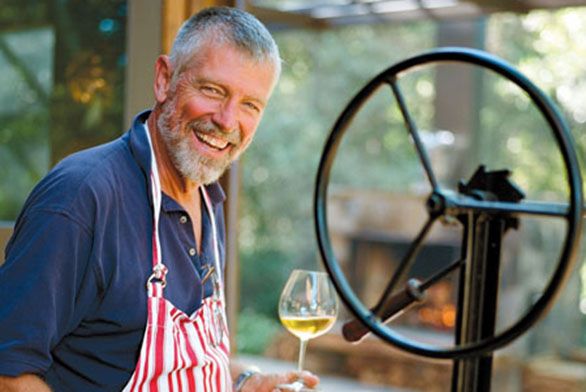 Larry Turley (SF69) was a junior at Georgia Tech when he visited his sister, Helen (A67), on the Annapolis campus of St. John's College. Life in the Program was extremely different from his experience as an aerospace engineering major down south, he says, and he was drawn to the place's vibe—so much so, in fact, that he decided to dive in himself.
It was the mid-1960s, and Turley had recently joined ROTC to help pay his college tuition.
"I had to go see the major and told him I was transferring schools, and he said, 'Do they have ROTC at St. John's?'" he remembers. "I said, 'No sir, I don't believe so."
The major offered him a military stand-by flight to Albuquerque, and Turley arrived on the new St. John's Santa Fe campus in uniform. He received a draft deferment for school shortly thereafter.
Though neither Turley nor his sister ended up graduating from St. John's, he looks back on the time fondly, particularly on the school's emphasis on "listening to someone else instead of reacting [and] formulating your reply."
He had grown up in the South, where there was a greater emphasis on tradition and emotion than conversation and logic, he says, and St. John's was attractive to him as a sort of antidote to that way of thinking.
"Growing up in the South, logic wasn't really at the forefront. It was a welcome avenue to really understand logic and participate in the seminars," he says. "You could state a position, but you had to defend it."
Turley took the skills he learned into two seemingly divergent career paths: medicine and winemaking. He served as an emergency room physician in California for 24 years before retiring in 1997, and worked in the wine industry both during and after his medical tenure. Turley was one of the founders of Frog's Leap, then went on to run Turley Cellars; His sister, Helen, has her own label (called Marcassin) and is a consultant.
His winemaking beginnings were humble; as he tells it, he got into winemaking after a chance meeting. Turley had owned his house in California's wine country for only a day when he nearly ran over John Williams, who'd decided to camp in his yard that night in 1974. Williams was looking for work in the wine industry. The two became friends and formed Frog's Leap after many long conversations about wine.
He now owns three wineries in Templeton and Plymouth, Calif.
"Wherever there's old vines, instead of trying to haul all the fruit up here—Paso Robles has actually the oldest that I have from 1885 vineyards—I bought an old winery down there and converted all the vineyards to organic and we make wine at all three places exactly the same way," he says.
It's worked—Wine Spectator called him a "zin master" for his dedication to and experimentation with old vine zinfandel, and his wines have made the magazine's top 100 list some years. Now, he's adding another award: an Award of Merit from the St. John's College Alumni Association for Outstanding Achievement in Winemaking and Viticulture.
If his health allows, Turley will visit the Santa Fe campus of St. John's for the first time in over 50 years to attend Homecoming and receive the honor.
"I was floored when I heard about it," Turley says. "From showing up in my ROTC uniform to getting that award is quite the spread."