Stay Tuned—2019 Sessions Coming Soon!
Equality & Inequality: Justice & Law
July 15-21, 2018 | Annapolis, MD
What is equality? What is justice? These questions have been asked for millennia, and we will trace the debate from ancient Greece to modern America. Aristotle, in Nicomachean Ethics, examines the relationship between the good life, happiness, and equality. In the Second Discourse, Rousseau seeks the pernicious source of inequality. By reading Hamilton, Lincoln, Douglass, and Anthony, we begin to discuss how philosophical ideas of equality apply to questions of politics, race, and gender in our own country. Finally, in laboratory, we take a different approach to equality, examining Archimedes' principles of equilibrium and the balance between bodies.
Classes and Readings
For more information, the college urges students and parents to review expectations and policies, a campus map, and additional need-to-know details about Summer Academy.
Seminar
Aristotle, Nicomachean Ethics, excerpts
Rousseau, Second Discourse on Inequality, excerpts
Tocqueville, Democracy in America, excerpts
Laboratory
Archimedes, "On the Equilibrium of Planes"
Practicum
Language
The Federalist Papers, excerpts
O'Connor, "A Good Man is Hard to Find"
Lincoln, "Young Man's Lyceum" and the Gettysburg Address"
Douglass, "The Hypocrisy of Slavery"
Anthony, "On Women's Right to Vote"
Example Workshops
Croquet, swing dancing, sailing, and choral singing
Example Excursions
Tour of historic Maryland State House and performance of The Tempest by the Annapolis Shakespeare Company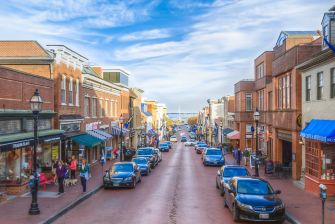 Summer Academy in Annapolis
At the St. John's College Summer Academy, the community formed among students is a natural extension of the friendships and ideas formed in the classroom. To this end, Summer Academy students experience life at St. John's by taking lessons in croquet, swing dancing, sailing, and choral singing. Students' conversations about justice, nature, and law will continue as they are taken on a tour of the Maryland State House and attend a performance of Shakespeare's The Tempest by the Annapolis Shakespeare Company.