Equality and Inequality
Justice and Law
July 10–16, 2022 | Annapolis, MD
What is equality? What is meant by fairness? Are fairness and equality the same? Many of us are familiar with the Declaration of Independence's bold claim, "we hold these truths to be self-evident, that all men are created equal," but is this rhetoric or reality? Through ancient and modern writings on philosophy and politics, we will delve deeper into the foundations of inequality, and then look at the natural, social, political, and economic ramifications in the America's founding documents, and the writings of Abraham Lincoln, Frederick Douglass, and Susan B. Anthony. Building on these conversations, we will discover interdisciplinary connections that lead us into Archimedes' laboratory to explore his concepts of balance and counterbalance.
Sample readings include Aristotle's Nicomachean Ethics, Rousseau's Second Discourse on Equality, Tocqueville's Democracy America, Archimedes' "On the Equilibrium of Planes," and speeches by Abraham Lincoln, Frederick Douglass, and Susan B. Anthony.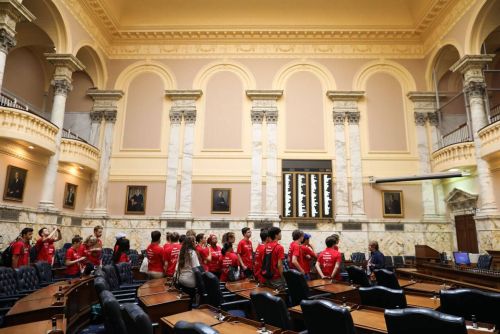 Classes and Readings
Seminar
Aristotle, Nicomachean Ethics
Rousseau, Second Discourse on Inequality
Tocqueville, Democracy in America
Lab
Archimedes, On the Equilibrium of Planes
Language
Hamilton, Madison, and Jay, The Federalist Papers
Lincoln, "Young Men's Lyceum" and Gettysburg addresses
Douglass, "The Hypocrisy of Slavery"
Susan B. Anthony, "On Women's Right to Vote"
Example Workshops
Croquet, Swing Dancing, Painting/Drawing
Example activities
Visits to the Supreme Court of the United States and Annapolis State House
Summer Academy in Annapolis
At the St. John's College Summer Academy, the community formed among students is a natural extension of the friendships and ideas formed in the classroom. To this end, Summer Academy students experience life at St. John's by taking lessons in croquet, swing dancing, sailing, and choral singing. Students' conversations about justice, nature, and law will continue as they are taken on a tour of the Maryland State House and attend a performance of Shakespeare's The Tempest by the Annapolis Shakespeare Company.