Poets & Perception
July 22 – 28, 2018 | Annapolis, MD
Full description coming soon.
Class readings listed below.
Classes and Readings
For more information, the college urges students and parents to review expectations and policies, a campus map, and additional need-to-know details about Summer Academy.
Seminar
Shakespeare, A Midsummer Night's Dream
Plato, Theaetetus, excerpts
Laboratory
Aristotle, On the Soul, excerpts
Boethius, "Pythagoras and the hammers"
Practicum
Language
Shakespeare, Sonnet #46
Stevens, "Thirteen Ways of Looking at a Blackbird"
Dickinson, "There's a certain slant of Light"
Wordsworth, "Tintern Abbey"
Example Workshops
Croquet, swing dancing, sailing, and choral singing
Example Excursions
Tour of historic downtown Annapolis and a boat cruise on the Chesapeake Bay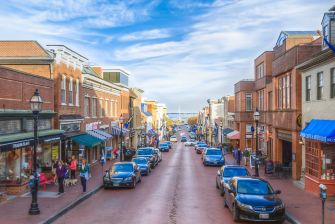 About Summer Academy in Annapolis
At the St. John's College Summer Academy, the community formed among students is a natural extension of the friendships and ideas formed in the classroom. To this end, Summer Academy students experience life at St. John's by taking lessons in croquet, swing dancing, sailing, and choral singing. Students' conversations about the heart will continue as they are taken on a historic tour of the Downtown Annapolis and embark upon a sunset cruise on the Chesapeake Bay.