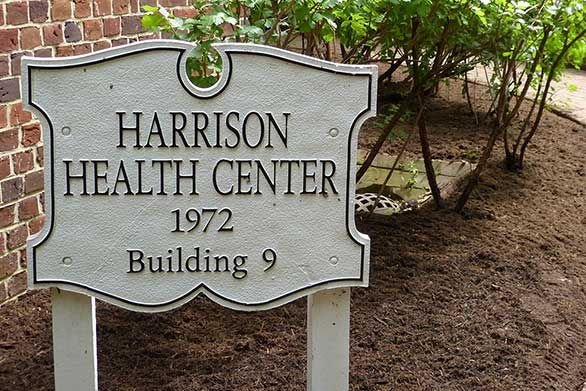 The on-campus Harrison Health Center helps students keep physically and emotionally healthy during their time here. The services are available to all currently enrolled students. Appointments are easy to make. The office is open Monday through Friday during the regular school year.
The Health Center is a full-service primary care facility staffed by nurse practitioners. Many health concerns can be addressed right on campus; if not, the Health Center staff can connect students to applicable resources. Counseling is also available to students at no cost and referrals to on-campus psychiatrists are facilitated by the counselors.
Hours and Appointments
Nurse practitioners are available to assess and treat students in the Harrison Health Center. Referrals are made as needed. The Health Center is open:
Monday through Friday: 9 a.m.–1:30 p.m. and 2:30–4:30 p.m.
Walk-ins
Walk-in hours are available, without an appointment, for acute illnesses. Walk-in hours:
Monday through Friday: 12–1 p.m. ​
FOR EMERGENT ISSUES, i.e. Upper Respiratory Infection, fever, injury, abdominal pain etc.
appointments
Appointments are available between the following hours:
Monday through Friday: 9 a.m.–1 p.m. and 2:30–4 p.m.
Make an Appointment by Phone
Call the Harrison Health Center at 410-626-2553.
Questions and Concerns by Email