1 Small College, 2 Dedicated Johnnies and an Unprecedented $50M Gift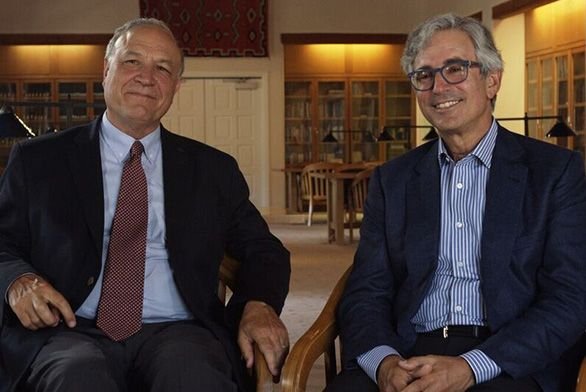 A $50 million gift is rare for our nation's largest institutions of higher education—and for a small liberal arts college like St. John's, with a combined student enrollment of fewer than 1,000 students, it is almost unprecedented. But this weekend, college board chair Ron Fielding (A70) and capital campaign chair Warren Spector (A81), jointly announced respective $25 million gifts to the college—each the largest single gift in St. John's history.
"This commitment is our rallying cry to fellow board members, alumni, and friends at the dawn of our capital campaign," said Fielding. "It's a signal of confidence in the college's direction and a call to action. While $50 million is an important foundation for the future of St. John's College, it is only the beginning. We are calling on fellow supporters of the Program to come forward, and we hope to inspire gifts both large and small."
The combined $50 million gift was announced November 5 at the college's Board of Visitors and Governors meeting in Annapolis, where Fielding and Spector expressed enthusiasm for the college's recent progress toward financial sustainability through fiscal prudence, strategic management of the endowment, and attention to student revenues and philanthropy. The two said that the board and alumni must now step forward to protect the institution for generations to come and acknowledged the sacrifices that have been made by staff and tutors.
"Belt-tightening has been painful," said Spector. "But the commitment of staff and faculty has given supporters of the college the confidence that we are dealing with our challenges. Now it's the job of the board, alumni, and friends to take the next steps in ensuring the integrity of the Program. It's an exciting moment: for me, this means giving future generations the opportunity to grapple with problems of great complexity, of viewing problems through the long lens of human history, and of understanding that seemingly new problems are actually part of an ancient continuum. The Program gave me comfort in addressing challenges and finding answers where no research was yet available. What could be more valuable than that?"
"Ron and Warren have shown extraordinary leadership, and I thank them on behalf of everyone who works and studies at St. John's," said Santa Fe President Mark Roosevelt. "Our task now is to live up to their faith in the administration and faculty—to continue to make the hard choices that allow us to focus on what is really important here: our students and their success."
True to St. John's' history and values, Fielding's and Spector's support will primarily be directed toward strengthening the Program and ensuring that all students with a desire to attend can afford to do so. Both gifts will be made as cash and not estate gifts. The largest share will be designated for the college's endowment, where it will provide ongoing support for academics, financial aid, and career services. A smaller share will go towards the Annual Fund, thereby ensuring that donors' gifts in the coming years will be protected as long-term investments in the Program.
Roosevelt said Fielding's and Spector's philanthropy has already galvanized additional support. "Others are now working with us to match areas of need with their giving priorities," he said, "and I expect to be able to announce more good news in the near future."
"It's so important, and so inspiring to see people stepping forward," he added. "St. John's is unlike any other college in the world, and its Program is a precious, singular gem. It must be preserved for the unique students who come to us, and preserved by those who came before them."
Annapolis President Christopher Nelson (SF70) said the gifts acknowledge the importance of securing the future of the college for the sake of our country and many generations of students to come. "St. John's has a long history of alumni and friends stepping forward to safeguard the college's distinctive and highly regarded program of study. These two gifts are extraordinary in their size and in the message they send about our future. I dare say that Spector and Fielding have seeded the ground for a fourth century of a flourishing St. John's College."
To add your gift to Fielding's and Spector's, visit our Giving page.