Addressing the Mind-Body Connection
August 22, 2017 | By Anne Kniggendorf (SF97)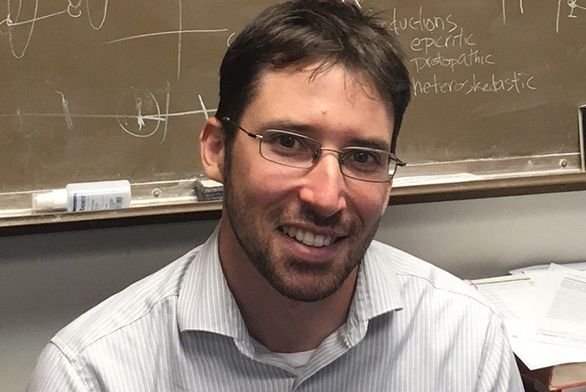 As the Graduate Institute at St. John's turns 50 years old, the college is featuring a series of stories to highlight the history, students—past and present—and other contributors who have made it what it is today.
A few years ago, a woman visited the University of California-San Francisco neuro-ophthalmology clinic complaining about her vision.
The problem, she said, was that what she was seeing resembled black and white static on a television, or "television snow."
The doctor asked the woman about the quality of her vision while she's dreaming. Did she see snow then, too?
Ariel Winnick (SF11, EC12) observed the interaction. His initial response was that the question was fanciful, but he had read enough about neuro-ophthalmology to know better.
The woman's answer could very well determine "where in the brain there might be some unusual activity. Or where in the eye. So, it's actually a diagnostic question," Winnick says by phone from his home in Israel, where he's studying medicine at Ben-Gurion University's Medical School for International Health.
After a series of misfires—applying to teach English in China but being denied the government stipend, working in the tech industry in San Francsico, scouting for PhD programs—Winnick has married his interest in what he calls the "mind/body problem" with a career path he's very excited about: neuro-ophthalmology.
Winnick became interested in the relationship between the mind and body while doing his undergraduate work at St. John's College. As he progressed through the Program, he grew skeptical about the way Western philosophers dealt with that relationship.
It seemed to him that some of the authors speculated about the world without ever having really used their bodies for military service, sports, or other heavily physical occupations. To Winnick, that suggested an imbalance.
Furthermore, through practicing Aikido at the college, he became aware that Eastern philosophers dealt with the mind-body connection very differently from philosophers in the Western canon.
After finishing his bachelor's degree, he immediately earned a master's in Eastern Classics, also from St. John's.
"In the Eastern tradition there are many instances where you come to a place where language doesn't help you and they acknowledge that fact. ... We turn ourselves to our body or to contemplating the spirit—spirit used very loosely—and we acknowledge that we don't try to build too many castles in the sand."
Neuroscience was the field he thought most closely aligned with the reading and questioning he was doing. But, until his friend, mentor and tutor Peter Pesic pointed him to Dr. Creig Hoyt's (EC10) neuro-ophthalmology clinic in San Francisco, Winnick didn't know what shape that interest would take.
Hoyt says he enjoys mentoring students in his clinic, but is "especially fond of St. John's students who bring a critical stance and clarity of thought. Ariel was especially engaging as he and I share an interest in cognitive neuroscience and its interface with philosophy."
The observations Winnick made in Hoyt's clinic were "an echo of what I liked about the St. John's science program. I got to do experiments and see what the books were describing and actually try it out."
It was the vestibular system, in particular, that fascinated Winnick. He explains that the vestibular system is widespread, involving the inner ear, the eyes and the cerebellum. A glitch in that system can lead to a problem called nystagmus—he says it's from a Greek word meaning to nod off—which causes the eyes to flick back and forth like the eyes of someone who's been spinning in circles.
Winnick contacted the leaders in this field and asked for lab work. He found someone at Johns Hopkins University who was willing to work with someone who had no actual medical training.
"There are lots of lucky things in life, and this was one of them," he says.
Having completed his post-bac requirements for medical school, also at a university in Israel, Winnick finally began studying medicine.
Though it will be years before he's back into neuro-ophthalmology, that's all right with him because he's found a point at which his interests converge. He laughs and says, "I ate the cream before I drank the milk."
Learn more about the history of the Graduate Institute and upcoming festivities on the GI 50th Anniversary page.