August 21, 2017 | By Tim Pratt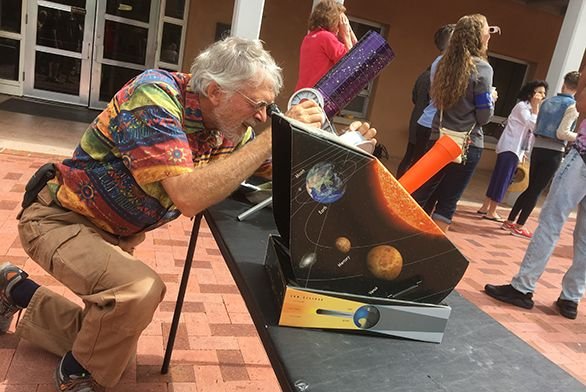 As the moon crossed slowly into the rays of the sun, a crowd congregated in the plaza of St. John's College in Santa Fe.
Students. Faculty. Staff. Community members.
All gathered to witness history.
A similar scene played out a short time later in an observatory at St. John's in Annapolis, their gazes aimed skyward, their eyes covered by protective glasses.
A solar eclipse, the first total eclipse in the contiguous United States in nearly 40 years, was taking place, and dozens gathered on both campuses to view it.
While many used protective glasses to peer up at the sun, others looked through makeshift projectors: empty cereal boxes, popcorn boxes and shoe boxes, for example, complete with pinholes, aluminum foil and paper.
"It's nice to get people enthusiastic about it," said tutor James Beall, an organizer of the event in Annapolis. "As long as people are careful, it's a great experience."
A total eclipse was visible on a path stretching from Salem, Oregon, to Charleston, South Carolina. Many across the country gathered to view it in cities along that path.
In Annapolis, NASA scientists estimated approximately 80 percent of the sun was covered at the peak of the eclipse. The percentage was about the same in northern New Mexico.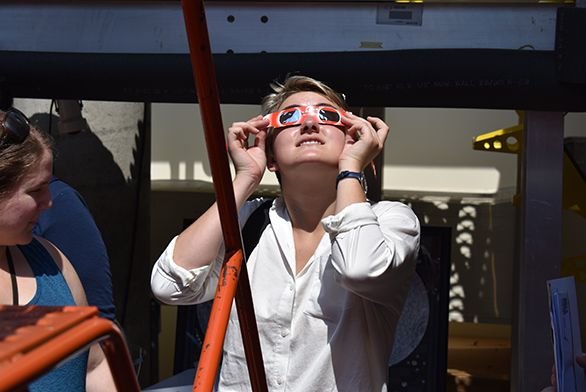 Santa Fe junior Lauren Max said the event made her think of sophomore math and Ptolemy's first model of the universe.
"As I'm watching, I'm thinking of perspective and of Ptolemy: where we are in relation to other (things) and how things happen to line up," she said. "Perspective affects so much. Perspective matters."
The event in Santa Fe also attracted members of the public, like Jude Redstone, who heard about the viewing and decided to attend.
"This is an opportunity to watch Time with a capital T," Redstone said. "I'm seeing a conjunction of color and of cosmic change."
The last total eclipse in the contiguous United States occurred on Feb. 26, 1979.
Among the students who gathered in Annapolis was sophomore Maddie Nell Jane, who peered up at the eclipse through a pair of protective glasses.
"It was great," Jane said. "It definitely looked more like the moon than I expected."
The light washing over both campuses dimmed as the eclipse progressed. Temperatures dropped slightly, too.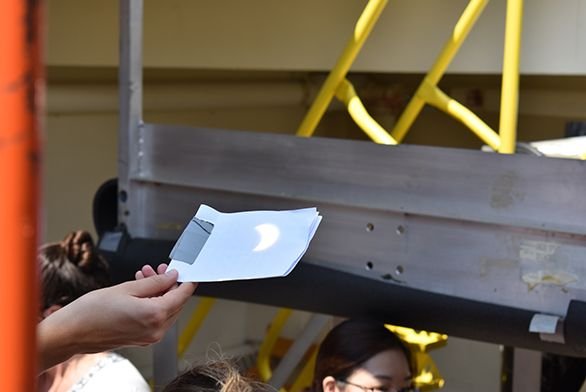 Annapolis astronomy assistants Anna Hubbell and Xiaotong Jin, who helped organize the event, held binoculars, the light from the sun shining through, the outline of the sun and moon illuminated below.
"It's really cool," Hubbell said. "It's always been something that has captured my imagination."
Annapolis junior Ayushma Thapa shared a similar sentiment after peering through a makeshift viewfinder, then a pair of protective glasses. When asked how she liked the event, her answer was simple.
"It was awesome," she said with a laugh.