St. John's: The Next Chapter
August 21, 2017 | By Tim Pratt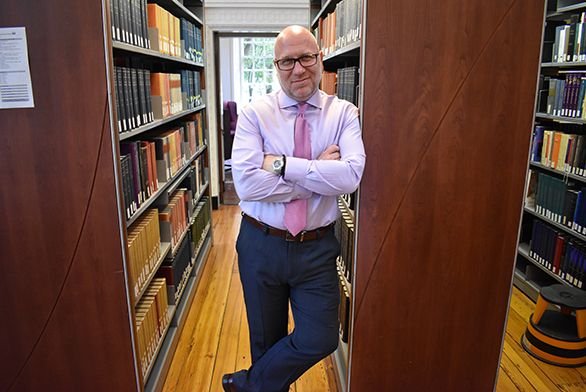 On a warm and muggy afternoon at St. John's College in Annapolis, a group of Summer Academy high school students walk on the red brick sidewalk past Mellon Hall.
Graduate Institute students, on campus for the summer, sit on benches in the shade. Others congregate in small groups on the quad.
Sitting at his desk with windows overlooking the scene is Panayiotis (Peter) Kanelos, the new president of St. John's in Annapolis.
The former dean of Christ College, the honors college of Valparaiso University in Indiana, began his term July 1. He replaced Chris Nelson (SF70), who retired in June after 26 years in office.
Kanelos has a number of goals as the new school year approaches: Increase enrollment. Preserve the St. John's Program. Engage with the community. He even wants to follow along with the student reading list over the next four years.
Although Kanelos is new on campus, he says he feels like he has entered a world with which he is already familiar. The Chicago native has been reading the great books of Western civilization, on which the St. John's curriculum is based, since he was a child.
"It feels new, but in a sense it feels like I'm returning to a home I haven't yet lived in," he says. "The ethos, the types of things people read, this has been my world for a very long time. So, in some ways, St. John's feels less like a destination and more like a homecoming."
Welcome to St. John's
Kanelos began making his rounds on campus well before he officially moved into the president's office. He spent time meeting people, attending events and learning more about the college. Since then, he has stayed busy, speaking often with faculty, staff and students on campus for the summer; working on administrative tasks; visiting Greenfield Library, where he held an original copy of Thomas Hobbes' Leviathan, on which he wrote his master's thesis; and brushing up on his swing-dancing, another St. John's tradition.
"We've gotten off to a very good start," says Annapolis Dean Joe Macfarland. "He's eager to meet with and hear from many people; he listens well; he keeps calm while appraising what he hears; and he has the energy to make good things happen. I'm encouraged by our conversations and our work together."
One of Kanelos' goals is to attract more students to the college. He wants it to operate at capacity.
"I think St. John's is undisputedly the finest undergraduate institution in America, but not enough people know that," he says. "How do you increase visibility? How does every person that should be a Johnnie become a Johnnie? In a crowded higher education environment, how do we make our voices heard?"
Another goal is to experience the Program in real-time, completing the same readings as students, in sequence, over the next four years. He will start with The Iliad this semester, just like the college's incoming freshmen.
"My hope is that will allow me to jump into conversations and participate in the intellectual life of the college," he says. "I want to feel like I understand the rhythms of the Program. I want to understand the textual encounters the students are having and be more familiar with the things the faculty is thinking about and feeling."
Kanelos estimates he has read 60-70 percent of the works on the college's reading list already. One of his favorite books is The Brothers Karamazov by Fyodor Dostoyevski, which is on that list.
Liberal Education
Looking ahead, Kanelos says he sees "absolutely no changes" coming to the Program or the way St. John's educates its students. A liberal education is important to "expand the horizons" of those being educated, he says.
"The thing to remember about liberal education is its end point is the education of a human being," he says. "The end point is not what we seem to be drifting toward in higher education as some other instrumental function—a human being as an employee, a human being as this or that. The goal of a liberal education is to develop the human being as fully as possible, intellectually and soulfully. In order to do that you have to expand rather than contract the range of things that human beings encounter in their education."
Kanelos says his time as dean of Christ College, a great books honors college, prepared him for the move to St. John's.
Christ College has an enrollment about the same size as the St. John's campus in Annapolis. It also has a history with the great books movement. Many of the people involved in its founding were affiliated with the University of Chicago, where the great books movement began in the late 1800s.
"Coming to St. John's was pretty much the only thing that would have made me leave Christ College," Kanelos says. "It's a wonderful program with great people and great students. This was just one opportunity I couldn't pass up."
Kanelos says he is eagerly awaiting the start of the new semester, when students return to the classroom to discuss the works of Homer, Plato and many more of the most influential minds in Western civilization.
"Getting ready for the full blast of fall, the first full day of the semester, I'm really excited," Kanelos says. "To walk around campus and see this storied institution, and know I've been asked to play a role in its continued thriving, is really humbling to me."
A Literary Life
Joining Kanelos in Annapolis is wife Christina, daughter Emmie, 10, and son Theo, 8. The family has a pet goldendoodle, too.
Outside of work, Kanelos enjoys cooking for his family, hosting dinners and dining at restaurants. His love of food, like his affinity for great books, dates back to his childhood.
Kanelos was introduced to the "classics" at an early age, he says. His parents were in the restaurant business, first in Chicago, then in Arizona, and Kanelos often spent time in the kitchen with a stack of books to keep himself busy. He recalls reading Homer and developing an early interest in epic poetry.
"That's how I spent my time as a child, growing up in the back of restaurants, reading books," he says.
Nobody in his family had ever gone to college, he says, and he assumed he would stay involved in the restaurant business—or become a singing lumberjack, a goal he laughs about today and attributes to a flannel shirt he once owned.
Kanelos eventually enrolled in a Jesuit high school in Arizona. It was there where he decided to go to college.
When it came time to pick a school, Kanelos chose Northwestern University in the Chicago area, where he had spent his early years and family members still lived. Kanelos' interest in writing emerged at Northwestern, specifically poetry and fiction. It also was at Northwestern where Kanelos met his future wife.
The Next Chapter
Kanelos received his bachelor's degree in English from Northwestern in 1991. Shortly after he graduated, one of his poems was published in the journal Poetry.
"At the time I don't know if I thought I'd be a writer as a profession, but more as an avocation," he says.
With a bachelor's degree in hand, Kanelos considered attending graduate school to further pursue his interests in writing and literature. But first he joined Teach for America, a program that sends recent college graduates to low-income schools to teach.
Kanelos was a member of the second class of Teach for America, and was sent to the Rio Grande Valley in Texas. Looking back, he calls it a "fascinating" and "intense" experience. Kanelos taught junior high school English to an entirely Latino student population, he says, many of whom were part of migrant farmworker families. He spoke little Spanish and says it was a difficult assignment, not coming from a teaching background.
"It was the hardest thing I've ever done, and it's made every thing I've done since then seem easy," he says.
In the years since then, Kanelos has lived all over the United States. He received his master's degree in literature and political philosophy from Boston University, where a chance encounter with Nobel and Pulitzer Prize-winning writer Saul Bellow put him on a path to attend the University of Chicago. It was there where he received his PhD in literature and political philosophy.
Kanelos also taught, wrote and got married while in Chicago. He then became a fellow at Stanford University, worked as an assistant professor and associate professor at the University of San Diego, and served as an associate professor at Loyola University of Chicago. Among his areas of expertise, he became an authority on Shakespeare.
Kanelos' career as a Shakespearean has been lively and rewarding, he says, from teaching Shakespearean actors in the Old Globe MFA program to founding the Interdisciplinary Shakespeare Studies Program at Loyola. In addition to publishing several books on Shakespeare and editing a book series, Shakespeare and the Stage, he has been called upon to speak or work with many of the most prestigious Shakespeare theaters and festivals in the world, from the Chicago Shakespeare Theater and the Blackfriars Theatre to the Globe Theatre in London.
His early love for creative writing has accompanied him on his academic journey, as well. While at the University of San Diego, he founded the Cropper Center for Creative writing. He continued to publish poetry and recently completed a novel.
In 2013, Kanelos joined the faculty at Christ College, where he remained until he was tapped earlier this year to lead St. John's into the future.
"He's the right man at the right time," says St. John's college-wide President Mark Roosevelt. "He has the focus and the knowledge and the skills to get to the issues we have to face at St. John's. He's both willing and eager to do so."