Johnnie Delivers TED Talk
August 18, 2017 | By Tim Pratt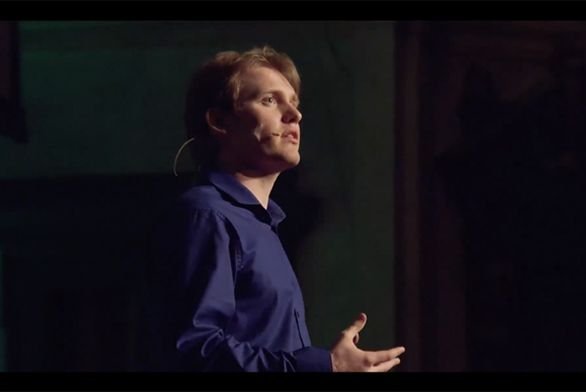 As Cameron Byerly took the stage in front of a large crowd in Cincinnati, Ohio, bright lights shined in his eyes.
Hundreds of people sat quietly in the darkness in front of him. The only thing he could see was a handful of cellphone screens glowing in the distance.
Over the next six minutes, the St. John's College junior captivated the audience. He used personal anecdotes to stress the importance of not rushing to "snap judgments;" of digging deeper and learning about different perspectives; of the lessons of Ptolemy; and of the role his St. John's education has played in his life.
Byerly was delivering a talk for a TEDx event on June 17 in Ohio's third-largest city. TEDx Talks are independently organized offshoots of the larger TED Talk series, where people from all over the world gather to share ideas.
For Byerly, the talk was the result of months of determination, practice and discovery.
"I'm thankful for the whole experience," Byerly says. "I'm hoping this will create a broad view of St. John's to a lot of the world because I'm really proud of the Program and the way we interact with things. I love it when I can say 'This is where I go,' and more people like me can find a place that speaks to them in a very particular way."
The origins of Byerly's talk can be traced to two semesters at sea he completed while he was a high school student in North Carolina. His mother teaches ethnomusicology and public speaking at Duke University, and he was able to join her for two semesters as she taught aboard a ship that traveled around the Mediterranean Sea as part of the Semester at Sea program.
While on that vessel, Byerly met the organizer of an on-board TEDx event, Jami Edelheit. Byerly says he has been watching TED Talks for as long as he can remember. He enjoys hearing different perspectives on a variety of topics.
"I think even back then I was sort of jokingly asking if one day I could give a TED Talk," he says.
Since then, Byerly volunteered at a number of TEDx events. Earlier this year, the organizer told him she made a spot available for him at the June event in Cincinnati. He jumped at the opportunity.
Byerly's original plan was to focus entirely on Ptolemy, the astronomer, mathematician, geographer, astrologer and poet famous for, among other things, creating the first mathematical model of the universe with the earth at its center. Byerly wanted to discuss why it is important to study Ptolemy's work and how he reached his conclusions.
Byerly then began composing drafts of his talk. After the 30th draft, he submitted it to TEDx organizers. They suggested he continue working on it to make it more personal, so Byerly went back to his revisions. He worked with some of his St. John's classmates, tutors and a TEDx speech coach. His mother also gave him advice.
Byerly eventually included anecdotes about his own experiences at sea, about studying Ptolemy and about the lessons he learned at St. John's. At first he was uncomfortable talking about himself, but he was open to changing his speech. He didn't want to lose his spot.
By the 63rd draft, Byerly's speech was complete. Then, on a warm night in Cincinnati, he joined seven other speakers to deliver it—twice.
For the first session, about 650 people packed into the theater to listen. Another 550 people filed in for the second session later that night.
"I had never given a speech to such a large crowd," he says. "It was terribly intimidating."
At the end of his talks, Byerly received enthusiastic rounds of applause. He calls the experience "incredible," but says he can barely remember parts of it.
"I sort of went into autopilot in a way," he says. "I had drilled it into my head hundreds of times. I didn't give my subconscious the time to mess up."
The audience that night also heard speeches from, among others, Prerna Gandhi, who survived an acid attack in her home town of Rohtak, India, when she was 13 years old; from Siri Imani, a poet who spoke about police matters and the Black Lives Matter movement; and David Scott Mann, a green beret who spoke about not just defeating an enemy, but rebuilding afterward.
"I found it enormously interesting and I appreciated the amount of kindness Tedx demonstrated to me and the other speakers around me," Byerly says. "We all got along and helped each other as we got to the end."
After the event, Byerly returned to his home state of North Carolina and the Hodson Internship he is now completing at the David M. Rubenstein Rare Book & Manuscript Library at Duke University.
As the new school year approaches, Byerly is looking forward to returning to St. John's, which he says has opened him to new perspectives and ideas.
In the past Byerly has written for student publications The Gadfly, Energia and Historia, and been a part of the Environmental Club. He also works in the Office of Admissions. This year he plans to join the Crew team. He says he looks back fondly on his experience in Cincinnati.
"The variety was fascinating," he says. "and I made some incredible friends."