Alum and Author to Deliver 'JohnnieTalk' at Homecoming
September 2, 2018 | By Kimberly Uslin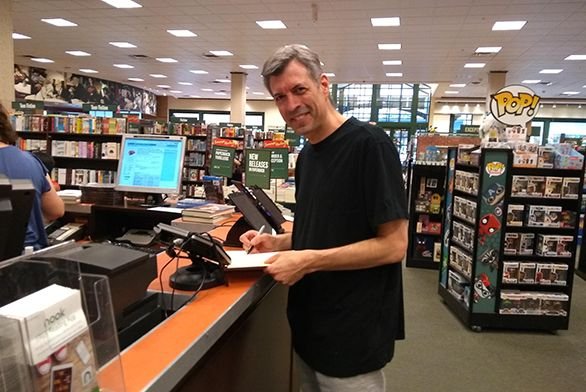 When we spoke with Dan Lieberman (A85) at the beginning of the year, he had just given a TEDx talk and was in the final stages of publishing his book,The Molecule of More: How a Single Chemical in Your Brain Drives Love, Sex, and Creativity—and Will Determine the Fate of the Human Race.
Lieberman's book is now on shelves, and he's returning to St. John's as a speaker for the first-ever JohnnieTalks series. Held over Homecoming weekend, the TED-style talks will allow current and past Johnnies to hear from innovative alumni in a number of fields. In advance of his talk, Lieberman discussed life post-publishing, self-help versus science, and why Johnnies are more likely to strive for their whole lives.
How does it feel to have the book out in the world?
You know, it's funny. We always think, 'If I can just do this, I'm going to be happy.' But as the book says, unfortunately it just doesn't work that way. We always want more. The other day I went to the bookstore and, for the first time, I saw it on the shelf. This was a bookstore I've been to for years—I bought children's books for my kids there, and it was really important to me. And the first thing that occurred to me was 'Why is it in such a crappy location? Why isn't it closer to the front of the store?'
That resonated with me. It's dopamine. I don't think I'll ever be satisfied. Somebody famous once said that books are never finished, they're just abandoned. It's fun, but I'm certainly not reaching the point where I'm able to take a deep breath and say 'Oh, it feels so good, and now I'm satisfied.'
It's not a self-help book, but are there some practical life lessons to be learned from The Molecule of More?

We've been hit with this question a lot. Self-help books sell better than science books, so we got rejected by a lot of publishers who wanted to turn it into a self-help book, but we said no. Johnnies understand that to know thyself is valuable in and of itself. You can't always make changes. We're talking about biological circuits that evolved over millions of years. Because Johnnies chose to go to St. John's, they tend to be very dopaminergic people—so in terms of giving advice, I'd say while they're exploring all of these fascinating new inspiring ideas, they've also got to take some time to live in the real world.
I think it's so funny that at the end of the year we celebrate Reality. It's like coming out of the abstract world of the dopaminergic possible and spending some time in the here and now of reality. I think it's about appreciating our friends, appreciating the beauty of the world, appreciating the taste of good food … and so I think that reality shouldn't be just once a year. I think that we should always take time to set aside the abstract and immerse ourselves in the concrete, because ultimately that's the raw material of new ideas—that concrete data we get from our senses. We're going to be most productive if we're able to bring the two together.
Are you looking forward to returning to campus for the JohnnieTalks series?
I'm excited. I think about St. John's all the time. It's such an honor.