Annapolis Alum Talks Liberal Arts and Tech
August 30, 2018 | By Kimberly Uslin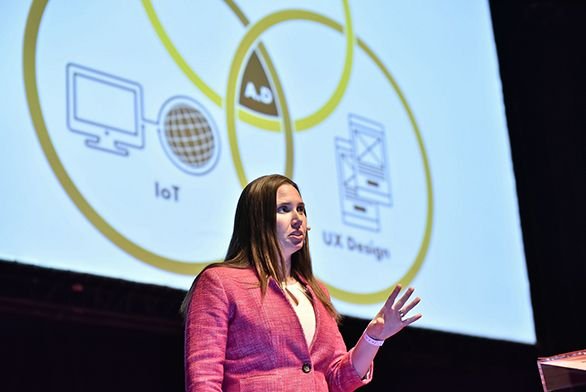 Heather Wilde (A99) has always been drawn to technology. Growing up, her family was one of few with a computer in the home—and it was love at first sight.
"I learned how to take it apart and put it back together. I learned to program it. I spent all of my time just building stuff for it, with transistors and soldering irons," Wilde recalls. "I was learning not only how to build machines, but to talk to them and make them do things, and I was encouraged to that."
A career in science and technology, then, seemed a natural choice. She completed the requirements for her engineering degree, then decided to start over.
"When I was looking at my life, I saw that been programmed with knowledge, but I didn't know how to formulate questions," she says. "I didn't know how to create."
Her solution? To enroll in a second undergraduate program at St. John's—arguably among the least technology-oriented schools in the nation. Rather than enter the Graduate Institute, Wilde felt she needed to commit to the full four-year experience.
"I said 'I need to start over. I need to go back to the beginning and really understand the fundamentals," she says. "That really set me up for the rest of everything that I've done."
And "everything," in her case, is quite a lot. In her 20+ year career, Wilde has worked as a flight attendant, programmer, video game designer, mentor, author, personal and professional coach, "unicorn whisperer" (a title attributed to her work with billion-dollar companies and entrepreneurs), nonprofit director, and software developer, frequently interweaving her diverse skill sets. She is an advocate for STEM education, writes regularly for Forbes and Inc. Magazine, and has published several genre-spanning books (her latest, coming out in December, is a guide to travel honed by the fact that she only spent 22 days at home last year).
Most recently, her diverse career path has led her to become one of the few female chief technology officers in the world. As CTO of consulting company ROCeteer, Wilde is able to tap into both her technical knowledge and critical thinking skills.
"I'll look at the infrastructure of a company in its technology areas and see what needs fixing," she says. "It's not that everything was necessarily wrong with the company, but I can identify where it can be improved so that it can get to the next level—say they're making $10 million a year in revenue and want to get up to $100 million. I'll adjust things over the course of a few years to get them where they want to be: hiring the right people, creating a certain type of product line, even something as simple as replacing the tools that they're using internally."
It's nuanced work, but Wilde says it's surprisingly apt for a Johnnie.
"I'm an engineer, so I think like a robot," she says. "But the liberal arts are extremely important. Critical thinking is the most important skill in business. No matter what you're doing, your unique specialization is only about 20 percent of any job—and that can be learned."
While a job at a major tech company may require a certain level of basic skill, it's the Johnnie way of thinking that can elevate a candidate.
"You have to pass the test of how to create an algorithm, for example, but the thing that gets you the actual job is whether you can think fast enough, whether you're able to argue back and forth fast enough and understand the ethical ramifications of what you're doing. It's understanding the overall picture, taking a step back," she says. "So if you can sell somebody on [the fact] that they need what only you can provide, which Johnnies are really good at—they're good at debating and rhetoric—then you'll have no problem finding a job."
"The world is changing very fast," she adds. "The types of jobs that are available are well-suited to Johnnies. We need more people that are open, fast thinkers."