Bike Share Comes to Annapolis Campus
August 29, 2018 | By Kimberly Uslin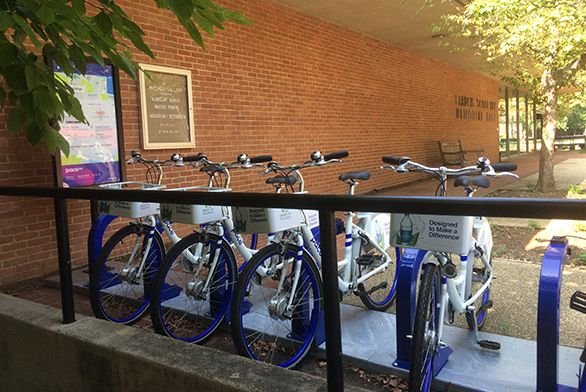 In the past few months, cities across the country have been infiltrated with the advent of the dockless transportation trend. Evolved from the traditional docked bike shares made popular in the last five years or so, dockless bike and scooter companies have filled city streets with convenient, inexpensive means of transportation—and now, they've rolled onto the St. John's campus.
The Capital Gazette reported in July that Annapolis, Anne Arundel County, and start up Zagster had partnered to bring a bike share program, called Pace, to the downtown area. The Pace bikes are technically dockless, meaning they do not have to be returned to a designated Pace station. But unlike other dockless programs, in which bikes or scooters can be abandoned almost anywhere, the Pace bikes must be returned to either Pace stations or any city bike rack.
St. John's new 6-bike rack is in the Campbell parking lot, and rides cost $1 per half hour (making for a pretty cheap ride to the waterfront or grocery store). Director of Career Services Jaime Dunn says the college was a bit hesitant to allow a station on campus, but the location seemed like a good fit.
"It's not as busy, but it's accessible," Dunn says. "We evaluated it pretty seriously to make sure it was a good program. We'll see what happens."
Students are welcome to use the bikes, of course, as are tourists, community members, and anyone else 18 or older in possession of a helmet.
The hope is that the program will offer students and others a chance to explore the city and get active at a reasonable price, especially if they don't have access to a car. But if the bike share causes any problems on campus (think: Baltimore's bike share, the @scootersbehavingbadly Instagram), Dunn says St. John's will simply go back to its former bike share-less existence.
"We're trying it as a pilot," she says. "If if doesn't work, we'll back out."