Two Alumni Join Forces to Create Training Program
August 27, 2018 | By Kimberly Uslin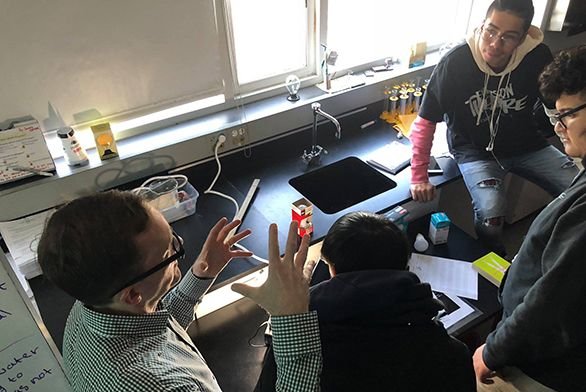 Even before their first meeting in Mrs. Davison's second grade class, Michael Conway (SF94) and Jonathan Spooner (A96) were on different paths. Spooner was an only child, while Conway was one of eight, and they reveled in each other's unfamiliar lives. Years later, when they were both at St. John's, Conway started in Annapolis and transferred to Santa Fe; Spooner did the opposite. Post-graduation, Conway pursued education, while Spooner enmeshed himself in technology. (In fact, Spooner was involved in building St. John's very first website.)
Now, decades later, their paths have converged in the form of Stacks + Joules, a nonprofit educational training program launched in Boston a year ago. Combining Conway's teaching experience with Spooner's technical prowess, the Stacks + Joules program makes building automation engaging and accessible to students in underprivileged—or, in terminology Conway prefers, overlooked and underappreciated—communities.
While the program's topic may seem niche, the pair says, Stacks + Joules is working to fill a considerable void in both the business and educational realms. As a high school math teacher in a school for students who had been "forced out of the system," Conway was tired of getting students to graduation, only for them to either enter into and subsequently drop out of college or face a world with no real job prospects.
"It's not just a matter of affording college through scholarships and loans. They had to pay for their own food and clothing and were often contributing to their own family, or even their own children," he says. "Getting them proficient in math and graduating wasn't enough. I thought, 'What will help put them in a position to really thrive with a sustainable, more-than-living wage that would be not just be a placeholder, but a clearly defined career?'"
For help, he turned to his old friend Spooner. Consistent communication between the two had given Conway a fringe understanding of Spooner's work with smart cities and the nebulously named Internet of Things, and he wondered how his students might fit into the ever-expanding fields.
"I thought, 'If we could get students to learn these programming skills and in a very specific context—not just computer skills—we could direct them toward a particular job that's high-demand, pays well, and has a career ladder," Conway says.
Spooner and Conway worked together on defining both that job and the curriculum it would take to prepare students for it. The result? A free 90-hour program, available through schools and community centers, that arms students with the programming skills they need to become building automation specialists.
"The Department of Energy reports that there are 200,000 building automation jobs currently open, and most of the industry has labeled it 'very difficult' to fill 70 percent of these positions," says Spooner. "When you think of your average building maintenance guy, he understands the mechanics of the heating, air conditioning, and lighting—but if you bring the same guy a laptop and ask him to write a supercode that controls the temperature, he's going to be lost. This is the big disconnect that's going on in this industry. There's tons of mechanical knowledge and no technical knowledge."
Stacks + Joules works to bridge that gap. In many cases, tech-based education is only offered in wealthy schools and districts, meaning students have "no access to some of the most important skills [they need] for a sustainable wage and secure career." And most students who do study programming would never think to specialize in hi-tech building certification, the pair explains, as it's not the most glamorous-sounding job. But the Stacks + Joules model aims to put the work in context—which comes directly from their St. John's days.
"When part of a larger, more connected, and more interesting context, technical learning becomes easier," says Conway. "That was my eye-opening experience with math and science at St. John's. Go to the source; make it real. It's not just about learning classical thought or mathematical systems. It's about digging into the source material firsthand."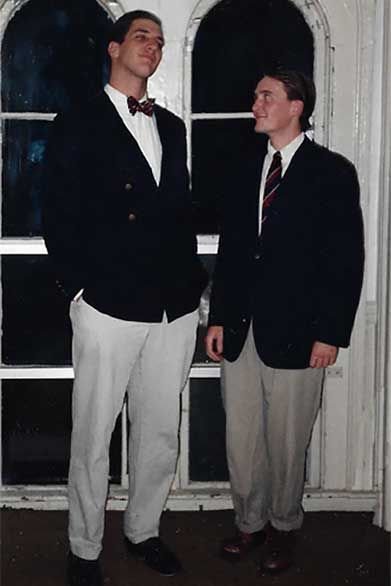 With Conway and Spooner as the sole teachers at the helm, Stacks + Joules educated 52 students across four cohorts last year, and hopes to expand this year with locations in Los Angeles and New York City (where Conway and Spooner live, respectively—they essentially "put home life very on hold" to get the program off the ground). At the program's end, six students were offered internships, and another decided to pursue a career in the related field of HVAC. While the numbers weren't exactly what they wanted, Conway and Spooner considered it a learning experience and have now established partnerships to create a pipeline between Stacks + Joules graduates and the companies that need them.
"It's not just charity," says Conway. "It's a huge opportunity for the industry and for our society, in terms of so much lost talent and existing potential. We don't see it as going in to 'save,' to find students who are not doing well or are somehow bad in some way. That's not the approach. It's that these are great communities, with all this overlooked talent. We're stepping in with opportunities, knowing that the talent is going to step forward. A lot of it is just getting the resources and opportunities to them, and then their inherent curiosity and genius just start to naturally exhibit themselves."
In fact, he says, much of the educational philosophy goes back to Plato's Meno.
"There's this idea—it's not a theory, it was actually presented as a myth—that that truth resides in every individual and so because of that, the process of learning is more like remembering something that you a short time ago forgot," he says. "What that to me is really about is this absolute respect for the young person. They have an internal genius, they have so much wealth to offer, and when you can get the right context and the right opportunity and open up the methodology by which you get there, you see this incredible result."