Alum Pursues Passion for Conserving History
July 13, 2018 | By Eve Tolpa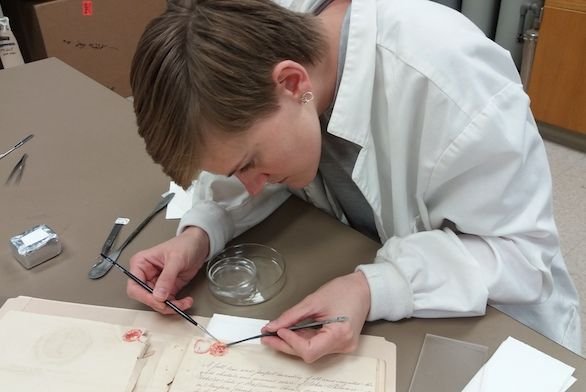 Heather Boning (A18) is spending her summer surrounded by what she calls "very odd historical items."
Among them are a piece of wood from the remains of the Peggy Stewart—a cargo vessel burned in 1774 during an event known as the Annapolis Tea Party—and an ice cream cone, which, due to its status as evidence in a significant court case, has to be housed in a special box.
It's all part and parcel of her internship at the Maryland State Archives, funded by the Hodson Trust.
Boning learned about Hodson internship grants from fellow St. John's students, but it was the Career Services Office in Annapolis that introduced her to different possibilities for internships and mentoring programs, from working with a conservator to working in a book bindery. Ultimately, she received a grant for conservation work.
"I'm the student assistant to the conservation labs," she says. "What's housed in the state archives is really fascinating."
Boning's days involve everything from reparative work and making sure historical items are stored appropriately to re-housing collections. She cites one current project concerning "a really particular collection of flags," which involves moving them and tracking their degradation for future conservators.
She also has a hand in creating exhibits for the public, one of which featured several original documents related to Frederick Douglass, including the slaveholder's ledger recording his birth.
Engaging in archival work wasn't always Boning's intention.
"When I was young I envisioned myself in something related to fine art museums," she says, adding that part of her interest came from having a mother who creates specialized clothing for historical re-enactments. "I spent most of my young life going to museums and seeing books in exhibitions."
Though Boning no longer necessarily aspires to a museum career, she acknowledges that archival work is similar.
It also dovetails with some of her previous experience.
After attending the St. John's Santa Fe campus for three years, Boning, who is from Sylmar, California (and very proud to be a first-generation graduate of a four-year college), took a year off before returning to Annapolis as a senior.
During that year, she got a job at the Annapolis rare bookstore Back Creek Books, where she was given the opportunity to do some of the shop's minor repairs.
"I got familiar with that kind of work by doing that at the bookstore," she says, noting the crossover in methods and materials used to repair rare books and archival items.
St. John's played a role in her passion for conservation, too.
"My education affirmed for me the importance of having that authentic source material, something that is untainted and true to what the author put down," says Boning.
"It's absolutely crucial that those materials be maintained, not just for the beauty of them but for the significance of the information. It's something I'm really excited about."
The Program also helped her grow in ways she never expected.
For her, "the coolest thing" was studying Apollonius's conical sections in sophomore year.
"I got to see the beauty of geometry and mathematics in a way I didn't envision for myself in high school," she says. "I did well in mathematics in high school, but I didn't see myself as someone who was in tune with it."
Boning continues, "The math program is something that changed not only my view of math but also of myself. It was really formative to go through something very gradually and see how it builds on itself—to see myself doing it, see the effect it had on me as I was doing it."
As a senior, she concluded that the dynamic she experienced in relation to math is present in every academic area covered by the Program. By immersing yourself in any subject, she says, "you are building yourself up with it. You see it change within yourself."