July 16, 2018 | By Eve Tolpa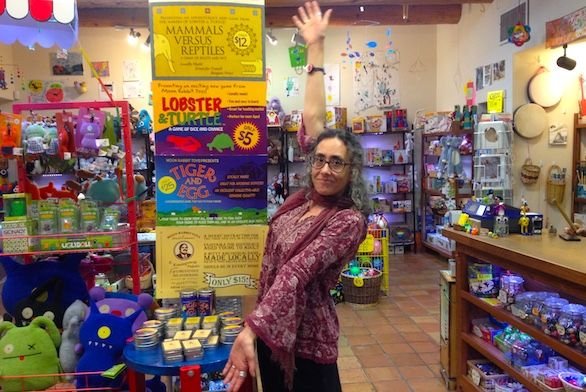 To call Shana Hack (A95) enthusiastic about board games would be an understatement.
Take, for example, the civilization-building game 7 Wonders.
Hack, who is the owner of Moon Rabbit Toys in downtown Santa Fe, calls it a "perfectly balanced" game.
"From the first turn to that last turn it's unbelievably satisfying," she says. "You want to play it more than once in a row. It's like, 'Oh, come on—best out of three!'"
Then there's the Royal Game of Ur, a two-player race game discovered during an archaeological dig in Iraq in the 1920s.
According to Hack, "There is no written record of how this game is played. That one that they found (in Iraq) is at the British Museum, and they came up with their own rules for it. When we ordered it, it came with someone's rules that we were very uninspired by, so we looked online, we did all this research, we came up with our own rules."
The Royal Game of Ur and 7 Wonders and are just two of the 150 games that take up an entire wall at Moon Rabbit. There's even a specially designated rack featuring opened versions of each one, so customers can test them and ask questions before buying.
"If anyone ever wanted to talk about the history of board games, you can't get me to shut up," says Hack. "I've done so much research into board games. It's a really fascinating study."
She has used that knowledge to create, along with the help of her manager, six games of her own.
Describing her cooperative game, Tiger and Egg, she says, "We all have to, as a group, collect 20 eggs to make an omelet before five eggs rot. I love cooperative games. I actually play most games cooperatively, in the sense that if I see my opponent do something stupid, I'm just like, 'No no, please do this, you'll get more points.'"
Hack spent a decade working at various toy stores in Santa Fe before opening Moon Rabbit in 2005. During those years, she witnessed a major resurgence in the popularity of board games, prompted by the success of Settlers of Catan, from Germany. "There's been a whole influx into America of these Euro games, and it's half my business now," she says.
The other half encompasses everything from puzzles and art supplies to stuffed animals and science gadgets. "I only carry toys I want to play with," says Hack, who aims to keep roughly 40% of her stock American-made, 20% fair-trade, and 20% from Europe.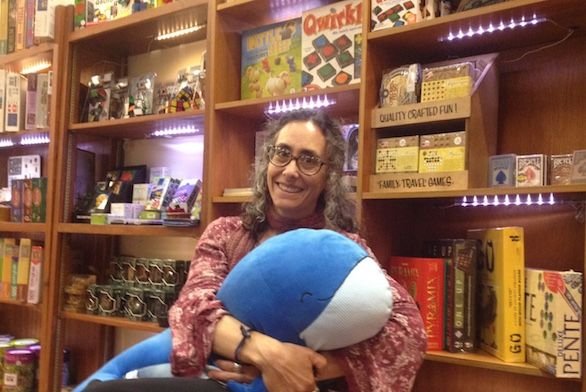 "I also love the classic toys," she says, citing favorites like yo-yos, Slinkies, and jacks—the last of which she recalls playing with fellow classmates in the hallways of St. John's.
Growing up in Los Alamos, New Mexico, Hack always knew she wanted to pursue a classical education, and St. John's was the only school to which she applied. She spent all four years in Annapolis. "I didn't want to go to college 45 minutes from home. Plus I liked the way the Annapolis campus looked. It looked collegiate."
In addition to memories of playing games with friends, her education also gave her an enduring relationship with Herodotus.
"Herodotus is one of my favorite things of all time," she says. "When I graduated, I picked up a different translation than I had read, and I think I've read it cover to cover like five times. I have four different translations; I like comparing things. His writing is so rich. It's sort of my go-to book when I need to visit an old friend."
Hack has hired many a Johnnie to work at Moon Rabbit over the years, and current students and their parents frequent the shop, too.
"I tell them, 'See? You can do anything with a St. John's education. You can even open a toy store!'"
But, she adds with a laugh, "Just don't do it in Santa Fe."